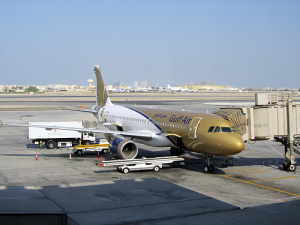 I've got a weird confession to make.  I have an unnaturally strong fascination with commercial air travel.  So much so that I keep a list of the airports I've flown through (180), the aircraft types I've flown on (71) and—of course—which airlines I've flown with (89).
I'm so much of a geek that I actually look at my current list of eighty-nine airlines traveled on and the only word that comes to mind is "slacker".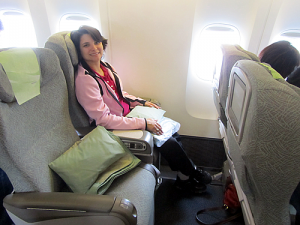 But enough about me.   The good news for you here is that since a major part of any travel adventure is getting there, I tend to pay attention to all things airline, airplane and airport related.
And although I could go on and on with air travel "been there, done that" tales ranging from the sublime to the flat-out horrifying, I've decided to narrow this post down to a dozen particularly useful factoids that I'm pretty sure you won't find anywhere else.
That's right.  I trust you can Google plenty of lists of the best airlines, worst airlines, etc.  But I want to give you something unique that you can REALLY use.  Here goes…
1) The Best 24-Hour Layover
You'll find out that Emily and I LOVE scheduling intentionally long layovers, specifically with the purpose of squeezing in a quick experience in a place we would not likely have visited otherwise.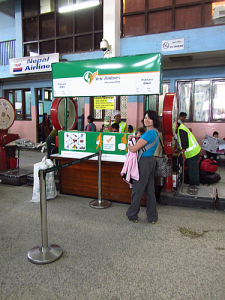 We cover how to do that in our free report on how to see the world for free (getchasum!), but for now I'll reveal the best one we've ever set up.
This is going to come out of nowhere for many of you, no doubt. But hands down, we love flying Air Baltic and hanging out in Riga, Latvia.
First of all, Air Baltic is a godsend to anyone trying to get from, say, Scandinavia to somewhere in Eastern Europe.  It's often the cheapest way to go and it's not a bad airline at all.
Air Baltic's only hub is at RIX airport in Riga.  If you do a quick search on Trip Advisor for flights and Air Baltic is an option, you'll probably see about a dozen different itineraries.  Most will be similarly priced, but one will likely have the glorious benefit of something like a twenty-three and a half hour long layover.
Snap that up.  And here's why.
Not only is old-town Riga perhaps the best-kept gem of a secret in all of Europe, you can pretty much walk the entire UNESCO-recognized area in a few hours. What's more, the food is absolutely amazing, the beer is really good and the whole shebang won't even come close to breaking the bank.
The airport itself is a laughable breeze to get through.  And heck, even the cab ride to the heart of it all is about ten minutes and twelve Euros away.  As a reminder, that's a cheap cab fare in most of Europe.
All of this means that you can have a high quality layover experience with as little as a measly six hours to spare…although we definitely recommend staying longer, having dinner and perhaps even sleeping over at the Hotel Justus.
2) The Biggest "Bait And Switch"
Don't think for a second that this post is going to be all wine and roses.  I've got a few things to get off my chest as well.
These days Norwegian Air Shuttle's ridiculously low-fares, especially internationally, are all the rage.  I understand why.  After all, the planes are mostly brand new and the service is pretty good.
The problem rears its ugly head once you land at Oslo Gardermoen Airport.  Unlike on Air Baltic, you'd better pray for the shortest layover reasonably possible.  Otherwise, you might have to mortgage your home to afford a slice of pizza.
That's because whatever you saved on the ticket you're about to give back for even a basic cocktail, let alone lunch.
I am not exaggerating when I tell you that a medium pie at Pizza Hut will set you back approximately $42 USD.  A pint of pedestrian Carlsberg lager will be about $18 USD.  Even a half-liter plastic bottle of Diet Coke will run you about $6.
Ain't nobody got time for that.  And even if you DO have time on your hands and want to escape for a quick trip over to Oslo, that's neither simple nor inexpensive either.
By the way, a close runner-up here would be EasyJet's weird policy regarding what happens after they've charged you extra Euros for a third bag.  The thing is, they sorta don't increase your total weight limit for your baggage.  What you get for your money is the same 20kg (or whatever) distributed over three bags instead of two.  Huh?  The agent behind the desk had no answers, and no solutions either.  As it turns out, virtually nothing on EasyJet is "easy"…except maybe spending extra money for no apparent reason.
Who knew that Amsterdam Schiphol was such a friggin' playground? It's hard to pronounce.  And land on the infamously far-flung Polderbaan runway and you'll think you've driven half the distance you flew to get there.  But man is it fun when you finally arrive. Lots of restaurants, shops, and yes…an observation deck.
Dubai gets an Honorable Mention, and probably should even win based on the strength of having exotic cars on display everywhere.  And yes, I realize Singapore Changi usually gets a lot of votes.  But hey, there's just something about Schiphol that's cool, at least to me.  It's not just another anonymous airport.  I like the vibe.
I'm also going to give a shout out to Jeddah, Saudi Arabia.  They won't exactly let you inside their country without the right credentials, but thanks to Muslim hospitality you get free meals and an fully-reclining easy chair in their (free) transit lounge.  There's plenty of coffee and Diet Coke, just don't ask for "adult beverages".
4) The Worst Airport To Connect Through
I'm still not thrilled about going through security again every time you change concourses at Houston Hobby (have they fixed that?), but Frankfurt makes HOU jealous in that regard.  How many times does my passport need to be checked, let alone my bags?  At least they let me keep my shoes on.
But Zagreb, Croatia takes the cake.  Who designs an airport with that nightmarish cafeteria from elementary school somehow recreated near the airport entrance…and NO other dining options?  And get this, we're talking NOTHING once you're through security.  Are they kidding?  No, they're not.
If I remember correctly, Croatia Airlines actually fed us on the short flight from there to Dubrovnik, but probably only because there would have been a riot on board had they not.
The new airport in Hanoi might deserve mention here.  As of this writing (mid 2015) it's been open for half a year, but most of it's food service stalls haven't been leased to vendors yet.   Who knew that the only real option at 10pm would be Popeye's Chicken and Biscuits…in Vietnam, of all places.  Well, we it's still better than Zagreb and we trust the situation will improve shortly.
As you can imagine, I always try to get a window seat.   I love really hairy final approaches or at least interesting sights when coming in for a landing.
The airline on which you're guaranteed to experience one of those almost every time is LAN.  Or at least that's what it seems.
They've since opened a new airport in Quito, Ecuador, but man that was a cool place to land.  So was Cusco…and Lima…and Medellin…and Isla Baltra in the Galapagos.
Sure, other airlines land at those places.  But which one lands at ALL of them?
Outside of Latin America, the approach into Luang Prabang on Lao Airlines is the clear winner.
6) The Craziest Domestic Terminal
Take everything you know about how to get your ticket, check-in and catch your plane.  Put it in a box.  Now throw it out the window.
Then pat yourself on the back and welcome yourself to Nepal, land of the most contrary domestic air travel system on Earth.
First, imagine the logjam at LaGuardia at 7am, only with nothing but 15-25 seat propeller-driven puddle jumpers.  Don't kid yourself, Nepal's domestic network is BUSY, and extensive.
Kathmandu's domestic terminal is wholly separate from its international one and feels more like a chicken bus station than an airport.  The "check-in counters" for the irresistibly-named Yeti Airlines are more like desks with metal-framed signs marking them.  We didn't have any bags to check, which given the chaos I was thrilled about.
If there was "security", it was minimal.  Want to catch a light breakfast before takeoff?  No-worries…there's a 12-year-old kid nearby who will sell you homemade pastries.  People crowd in and lie around, much like a train station in India.  When your flight is called, they open the door and point to which rickety brown airport bus you should run towards.  The boarding passes had beautiful pictures of the Annapurna Range near Pokhara on them, and we got to keep them because nobody ever checked them, let alone collected them.
I'm going to call this one a tie between Hong Kong And Kuala Lumpur's mainline terminal.  For a westerner, at least, each is a bonanza of exotic humanity.  You will encounter more people from cultural backgrounds you never even knew existed—all in one place—than you could from months of traveling.
We can't count the number of times we've wanted to stop people and take pictures with them at those two airports.  But even if that wasn't at all a rude thing to do, you'd never make your flight if you indulged.
Addis Ababa, Ethiopia should also garner a mention here.
8) The Most Kid-Friendly Airline Ever
This award goes to Qatar Airways. Holy mama, dude.  Just when you've forced yourself into the mindset you think is necessary to endure that epic 16 ½ hour flight from DOH to IAH, you find yourself two-thirds of a full day later not wanting the journey to end.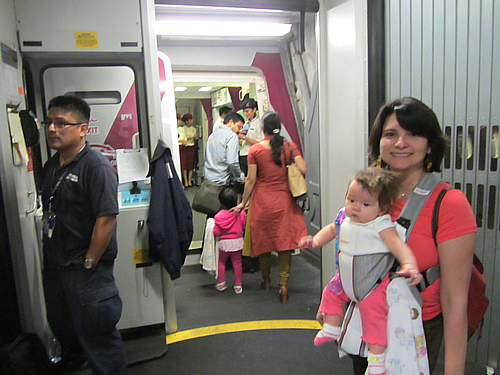 That's because among other things, your five-month old daughter was treated to a lie-flat bassinet with full linens, tucked in by two flight attendants.
What's more, she has now collected more Qatar Airways-branded toys than most kids would score at their own birthday party (including a full-on Etch-a-Sketch shaped like an airplane), yet she's not even old enough to play with them.
They warmed formula for our daughter and made it a point to check in extra often to see if Emily needed anything…anything at all.
And then, to top it all off, they gave the kid her own dinner.  She wasn't even on solid food yet.  I couldn't help but be reminded of the time years ago en route to Caracas on Avensa when a flight attendant asked me if I wanted "beef or pasta". I said "both" half-jokingly, and she handed me two trays.
Oh, and we got to board first.   What's more, they left an empty seat between Emily and I on purpose.
In case you're wondering, we've flown Emirates and they were very good with kids also.  But Qatar wins.
Turk Hava Yollari and Atlas Global (also Turkish) deserve mention as well.  After all, Turkey may be the most kid-friendly nation ever, so it makes perfect sense.
9) The Baddest Ass Low-Cost-Carrier
Air Berlin could've won this.  For what it's worth, they also deserve an Honorable Mention in the kid category above.  How can a low-cost-carrier (LCC) give my son AND my daughter matching metal boxes cram-packed with cool kid stuff?  That was pretty sweet, especially for a two-hour flight.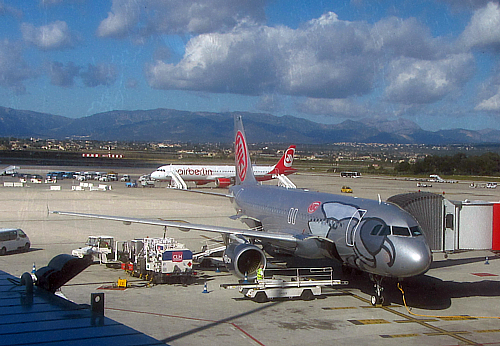 And I realize that a lot of 'Muricans are big fans of Southwest and JetBlue.  Okay, fine.
But nobody holds a candle to Air Asia. Believe it.
The laid-back, cool vibe is in full effect, much like it used to be on Southwest.
I love the fact that extras are clearly offered online during the booking process, and they're CHEAP.  We opted for hot Malaysian-style breakfast and I think it was about $4 USD per person.  Onboard, the food was custom-delivered with a smile, and it was actually VERY tasty.  People around were jealous, having apparently neglected to order breakfast themselves.
And then there was the kitschy but irresistible "Inflight Comfort Kit" for like $12 USD that included a full blanket, a sleep mask and more.  Having pre-arranged it also at booking, they handed it over at the check-in counter.  It was so well-made and flat-out cool that we STILL take it on flights with us.
The planes are new,  service is good and the schedule runs pretty well.
And the flight attendants are HOT…as in, ALL of them.  Even Emily had to give props.
Remember what I told you about people watching in Hong Kong?   One majorly fun game to play there is "Guess What Airline That Flight Crew Is From".
And there's no telling, really. Especially when you're hit with a dozen women in flowing teal, bare-midriff saris printed with—get this—peacock feathers everywhere.
As it turned out, they worked for Sri Lankan Airlines, a decent airline that we eventually had the pleasure of flying.  In fact, Colombo's arrivals area was oddly reminiscent of that place in Mexico where all the monarch butterflies congregate, only with peacock women.
But I'll tell you, I couldn't help but remark to Emily that those were uniforms you'd NEVER see on flight attendants in the United States or Europe (unfortunately).  Truth.
11) The Best Airline Food In Coach

Okay, well we got on Asiana Airlines with high expectations.   It seemed that everyone who had flown them raved about how they had live entertainers on board and all sorts of other amazing stuff. You would think that a flagship flight from Incheon to LAX would feature all of that, but it didn't.
However, the freaking filet mignon in coach class covered a multitude of letdowns.   For what it's worth, the choices were "beef" or "fish".  The moral of the story is to ALWAYS ask for elaboration if you have any doubts…or even if you don't.
Call me weird, but I was also a big fan of the authentic Japanese dining experience on All Nippon Airways.  I've always loved that feeling that I was already in the country I was headed to–or haven't left just yet–as soon as I hopped on the airplane.
12) The Most Inaccurate Airline Reviews Ever
Having booked TAP Air Portugal to get a layover through Lisbon before heading back home across The Drink, I looked up some reviews of the airline.  And boy howdy, was I ever sorry I did.
Without exception, every reviewer slammed this airline…majorly.  I mean, it was as if you could've looked up "Murphy's Law" in the dictionary and it would have said, "see: TAP Air Portugal".
But once we got to the airport, we were treated to one of the best airline experiences ever.  Never mind that we were inexplicably upgraded to first class on the European leg…on a ticket we obtained with frequent flier miles, no less.  Even the trans-atlantic flight featured great wine, pretty good food and an impressive in-flight entertainment system. The plane was a new-ish A330 and the seats and accommodation were more than fine.
Consider us the dissenting opinion on TAP Air Portugal.
For what it's worth, we flew the infamous Air Koryo on our recent trip to the DPRK (more on that later) and can echo the sentiment found elsewhere that it's not nearly as horrid as SkyTrax would lead us to believe.  The plane was new and clean, the flight attendants were cute and nice and the flight actually arrived early.  Baggage was handled effectively, while the food and IFE were more interesting than terrible.
13) The Most Amazing Airliner Ever
I'm not going to go uber-geek on you and talk about the Russian-made Ilyushin IL-62 I flew on twice back in '86 and '87, even though that really is the winner.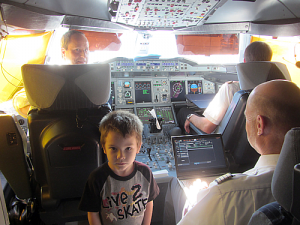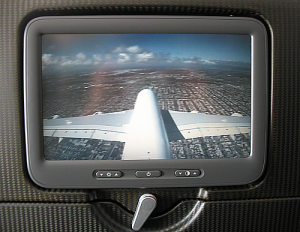 Here's something you can actually use, instead.  If you ever get the chance to fly on an A380 super jumbo, jump at it.  It's like a flying hotel, no doubt.  It might even trump the Soul Plane.
So far we've only flown them with Lufthansa and Qantas, but Qantas had the cooler config.
Not only is the thing massive and modern, it's got a full-on bathroom section the size of the one you just saw back at the airport terminal.  That catches you completely off guard.
But even in coach, Qantas has an open snack bar and beverage station that's stocked remarkably well.
Now in case you're wondering, I've flown the 787 and it was way cool as well. The tinted windows and wings that flex like a bird are undoubtedly killer. But the weird no-touch toilets that require the lid to be down probably need rethinking.
The A380, and the sheer overwhelm that comes with it, wins…although I do like the Lufty A340-600 also. The "lavatory deck" downstairs is funky and different.
Like I said, I could go on and on with this. Maybe there will be a Part Two in the near future. What categories would you like us to cover? We've got a million of 'em.