Video:  A little "bucket list motivation" from atop The Great Wall (where else?)
Before we went there, I knew few people personally who had ever been.  Yet, as a part-time world traveler the allure of China was unmistakable.  Yes, there was all of that history.  Plus there was the irresistible intrigue surrounding a culture so rich yet so different from our own.  And then, there was the simple fact that the profound political divide between China and the US meant that we simply knew relatively little about whatever was going on there.
But above all else, there's a particularly gnarly gaping hole in the "been there, done that" map when one hasn't yet visited the country where roughly twenty percent of the world's population resides.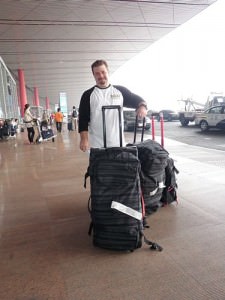 The truth is that China was right at the top of Emily's "must see" list.  At the time we went for the first time, we were relatively novice world travelers so we did some things in preparation for our visit which in retrospect were rather silly.
For example, we updated our will.  (Hey, anything could happen, right?)
On the non-stop flight from Newark (which was unexpectedly, and amazingly, trans-polar), we took two Ibuprofens a couple of hours before landing so that we were absolutely sure not to run a fever upon arrival.
Okay, well actually that second bit may not have been so preposterous.  After all, in accordance with what we had been warned there was an elaborate machine waiting for us on arrival that checked our body temperature (and which was still there six years later, by the way).  They were routinely quarantining passengers who they suspected may have the dreaded H1N1 virus.  The idea of having our whole trip ruined while being guests of the Chinese government didn't interest us in the least.
Fortunately, however, we knew immediately upon clearing customs that what awaited was going to be well worth the 12 hour flight.  For starters, the airport was ultra modern, with evidence of advanced technology everywhere.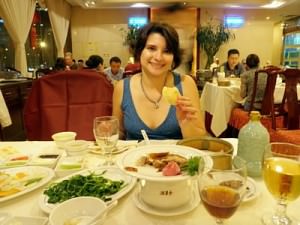 Having caught a taxi into town, the swarm of bicycles seen in footage of China as recent as the early 2000s had given way to BMW 7-Series sedans following S-Class Mercedes down the street.
Our hotel was modern and fully-appointed; five stars for about $100 USD per night.  Visible from our window were both a Peking Duck restaurant and McDonald's.  We ended up trying both.  Suffice it to say that Peking Duck in
Peking is one of the most delectable dining experiences one can possibly savor.  We kept the beautiful jade-colored bottle the rice wine came in as a souvenir.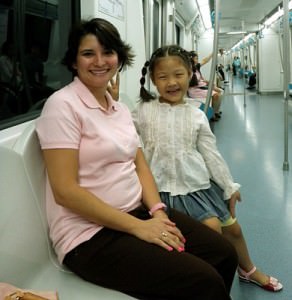 Indeed, the food in China is not to be confused with, well, Chinese food as you know it.  You can get donkey meat at many restaurants, which is apparently quite popular.  One restaurant in particular was freakin' great.  It had a picture menu (thankfully) festooned with an eyeful of bizarre yet tantalizing delicacies unseen to the typical western eye. We simply pointed at pictures and our team of at least five waiters and waitresses hurriedly went to work. Shortly they were bringing astounding dishes that we'd never seen before and haven't seen since, each as tantalizing as it was weirdly delicious.  My personal favorite was the hot-pot/fondue hybrid that was boldly spicy in a way that had the same net effect as eating a bag of eucalyptus cough drops drenched in Tabasco.  If you can't imagine what in the world I'm talking about, welcome to Beijing.
They have this thing in China for big, round tables with a "lazy Susan" in the middle.  Presumably that's because Chinese food lends itself to family-style eating, but I'm starting to believe it's more because you can invent some awesome drinking games.  I'm also pretty sure they don't call it a "lazy Susan" because nobody in China is named Susan.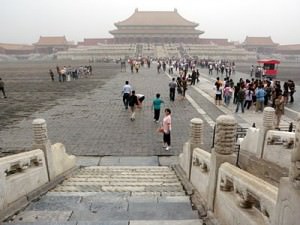 I have to tell you, beholding the Temple of Heaven, taking in the sheer scope of the Forbidden City and wandering through Tiananmen Square were all iconic experiences for us, as they would be for any traveler. And yes, as the video accompanying this post shows, climbing around on The Great Wall truly deserves to be on everyone's bucket list. [Update:  Having just returned from our second trip to Beijing, we also highly recommend hiking the unrestored part of the Great Wall.  We started at the Jiankou section and trekked all the way to the restored Mutianyu part.  It's not for the faint-hearted, especially on your first morning there when you're still attempting to reconcile twelve hours worth of jet lag.  But it's a magnificent adventure, and one that made our legs hurt for over a week.   More on that in a future post.]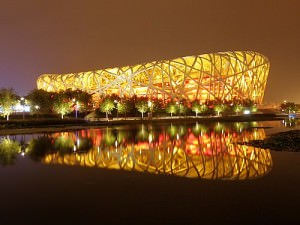 The more modern sites like the Bird's Nest stadium and Water Cube from the 2008 Olympics were in many ways just as cool to see, having had so much exposure to them on TV during the games. Seeing them at night is a must.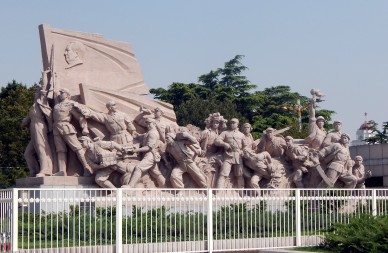 But the best part of being in Beijing was immersing ourselves in the culture, seeing the everyday sights, hearing the sounds and breathing the five-spice laden aromas that make China so exotic and different. There's both the good and the bad, but it's all incredible—everything from the dizzying maze of gigantic neon signs in Kanji to literally being pushed by designated workers onto metro trains during rush hour.  It's one unique surprise after another.
A somewhat non-standard decision we made was to hire a rickshaw driver and take what's called a hutong tour, through the city's extensive network of old-school residential villages (for lack of a better description).  A bit daunting at first–as perhaps a tour of, say, a favela in Rio would be–we soon relaxed and enjoyed meeting the people who lived there and discovering how they live their daily lives.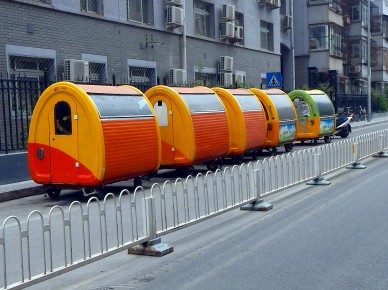 We had a great time in Beijing, and here's the thing—even when challenged by a military policeman for taking videos in Tiananmen Square, we ultimately felt safe the whole time we were there.
Yes, having one's dollar stretch as well as it does in Beijing helps ease the mind, but ultimately we found a 21st century city that still retained its historical intrigue.  In fact, the most intimidating part about the whole trip may have been the visa process.  Once you get off the plane, just remember to load a Mandarin-to-English translator app into your smartphone and you'll be all set.
HOW TO GET THERE:
Most major world carriers serve Beijing.  Air China may offer a non-stop alternative from your city (including relatively new service from Houston), but don't expect a relatively higher level of service—especially in comparison to other Asian carriers with world-class reputations.
If you happen to be in South Asia, look into Air Asia.
WHERE TO STAY:
Some may prefer going with a local B&B type of establishment in a hutong neighborhood, which we did the second time we went to Beijing and found interesting.  Nevertheless, four and five star rooms will be less expensive then they would be in say, western Europe.  Our recommendation as far as location would be to stay near Tienanmen Square if you can.
HOW TO SAVE MONEY:
Ask your hotel to assist in booking excursions to The Great Wall, and bear in mind that some tours will try to make you spend more time shopping and/or getting a massage than actually climbing the wall.
Also, as is true in so many other places, be sure to dine at the mainstream restaurants that locals eat at rather than anything that appears to cater directly to tourists.
WHAT TO SEE ON A LAYOVER / WHAT TO SEE IN ONE DAY:
This could be tricky because many of Beijing's main sites are far-flung from one another.  If you can, hire a cab driver for the day and have him take you to Tianenmen and the Forbidden City first as they're right next to each other.  From there see the Temple of Heaven and then go directly to the Badaling (best restored) section of The Great Wall.  That would be a full day of at least 8 hours.
If you have an interest in the Olympic venues, seeing them from the outside is really what matters.  Both the Bird's Nest and The Water Cube are largely unimpressive inside.  Perhaps your taxi driver can drive you to them as they're close to each other, although they're not particularly near the other main sites.
As a quick note, if you're planning an organized tour of North Korea it will likely start and terminate in Beijing.  Absolutely budget a couple of extra days (at least) to take in this amazing place as well.
TIPS AND TRICKS:
Don't fear the food.  Give it a try.  Even the donkey meat.
Negotiate prices for ad hoc tour guides up front (e.g. for hutong tours), and be very clear about what the price is. For example, a guide may quote a price of "three" and attempt to collect "three hundred" later.  FYI, "Renmenbi" is the name of the Chinese currency and "Yuan" are the units, although it often seems that the terms are used interchangeably.
Allow plenty of time to see the Forbidden City.  It's massive.
Visit a large park if you're there on a weekend day with nice weather.  There's a great one adjacent to the Temple of Heaven.   You'll encounter traditional music and Beijing locals doing tons of interesting things.
Get out of the city at least once, for sure.  A Badaling Great Wall tour that includes a visit to the awesome Ming Tombs is a "done for you" option.
People push and shove a lot in China.  Don't be alarmed or offended as it's all part of the culture.
If you visit the Mutianyu section of the Great Wall, don't pay attention to the sign that says you can't go past where the restored part ends. Go and explore! (Just be careful.)
TAKEAWAYS:
China is as technologically advanced as it gets…when it wants to be.
People are curious about westerners, but don't expect them to drop everything in awe because you're so unique.  That won't happen.
OFF THE BEATEN TRACK:
Ming Tombs, which is often included in package day tours to Badaling (along with weird shopping trips to "jade factories" and the like, unfortunately).
If you're up for a cool adventure, catch a ride with a guide to the unrestored Jiankou section.  You can hike it for several kilometers to the fully restored Mutianyu section.  The previously largely unrestored Simitai section is now open again, having been closed for restoration since 2010. The Jinshanling section is another choice for an "unrestored" experience.
COMPLICATIONS:
The time difference is such that Beijing is almost exactly on the other side of the world from the eastern US. You may want to plan the entire first day you're there as a catch-up day. Take a nap when you get there, wake up about four hours later and try to go to sleep at the same time the locals do. That's what we've realized works great when going places like the Pacific Rim, Asian Subcontinent or Australia where the time difference is wicked.
The visa process is expensive and relatively complex.  Don't wait to til the last minute process it.
There just aren't a whole lot of English speakers in China, especially as you get out of the cities.  There are more signs in English than there used to be, but still…