Welcome…The World Is About To Become Your Playground.
We're Scot and Emily McKay, just a couple of rambunctious dating coaches whose lifestyle allows us to work from anywhere in the world. All we need is an Internet connection. Well, and a passport. Maybe a visa. And possibly some shots or anti-malarial meds. Sometimes a Land Rover.
Anyway…we couldn't be happier that you're joining us for the nutrageous adventures we're sharing here on our blog. We started traveling internationally on our honeymoon in 2006, which was plenty rambunctious in its own right.
But after having scattered but a precious few other trips over the next three years a weird question finally struck us like a lightning bolt:
"Hey…wait a minute. Why exactly have we stopped traveling just because we've had a baby a couple of years ago?"
I mean, if Steve and Terri Irwin could go on globetrotting adventures while holding a toddler, why couldn't we?
Not to say we're badasses like those two. These days we're more like a couple of dorks having WAY too much fun.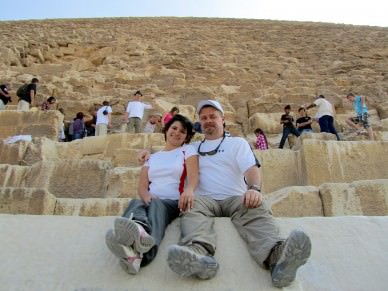 That's because shortly after asking ourselves that oddly profound question back in mid-2009, our lives changed…mostly because we couldn't come up with a particularly reasonable answer.
So since that very moment we've been spending an average of three or four months out of the year away from our home in San Antonio, TX. Oftentimes that's with our son John (8) and his little sister Sarah (4), both of whom are homeschooled. During summertime their two older sibs join us as well. That's David (20) and Danielle (16).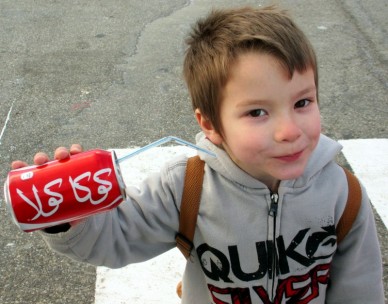 Obviously, we're a bit different than some of the other travel bloggers you've met before. We didn't sell everything in 2009 and become nomads. Although that sounds really cool, we've got a home, friends, breakfast tacos and extended family back in Texas…all of which we look forward to returning to after three weeks or a month of gallivanting around.
In other words, we've pulled off what seems ridiculously farfetched to nearly everyone: We've managed to figure out how to live a life of adventure travel, all without becoming homeless in the process. What a concept!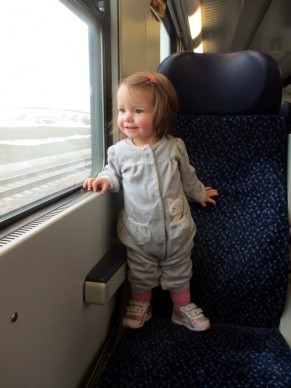 Anyway, the culmination of over nine years of travel all over the world is this site you've happened across, which we've lovingly named Wing-It Worldwide.
Despite the name, you'll soon notice we don't always fly around wherever we go. Although we've definitely racked up the frequent flier miles, we also have an RV and go on some serious Griswold-style road trips. That way we can pull together some great tips and "been there, done that" info on a wider variety of travel experiences.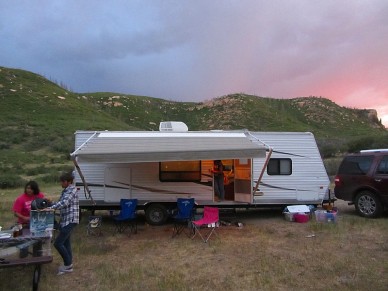 Another important note is that we are not exactly into staying at five-star hotels and eating at McDonald's when we go to different countries. We're always on the trail of a great adventure, so we love hanging with fellow travelers at hostels, eating the local food, experiencing new cultures, seeing the sights that are off the beaten track and especially meeting all of the fascinating and generally wonderful people everywhere.
Since the journey itself is often just as interesting and fun as the destination, you'll find we often cover how we're traveling along with where we're going.
This unique mix of factors can only end up making Wing-It Worldwide a site (and podcast!) unlike any other you've seen before. You'll get all the actionable info you can handle, all in a fun, entertaining package. We can't wait to inspire and motivate you to take that breathtaking but exciting step forward to go and experience this boundlessly fascinating world for yourself…drinking it all in.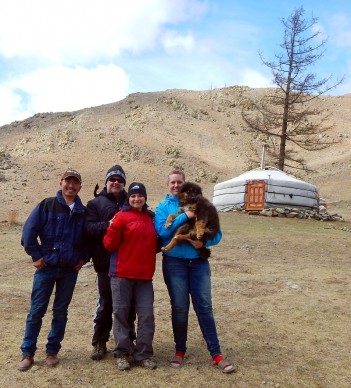 Suffice it to say that the Evening News has nothing on boldly going forth and forming your own impressions of what the world is REALLY like.
Be Good and Have Fun,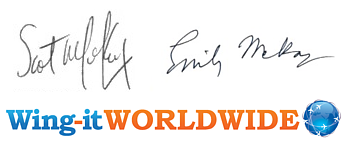 P.S. If you've already figured out that you're one of us traveldork types, join with us on Twitter (@wingitworldwide), Facebook (/wingitworldwide), Pinterest (wingitworldwide) and YouTube (wingitworldwide). You'll find tons of pictures, videos and free stuff everywhere you look.
Go ahead and write us, too, at scotandemily@wingitworldwide.com.  We read and answer all of our e-mail.
And of course, definitely log-in using the form below and we'll send you two reports that will supercharge your travel experiences from the get-go. You'll also get practical tips, plus you'll be the first to know when new posts and podcasts drop…boom!