Video: A Rare Glimpse Of The Golden Temple By Day
Every American, Canadian and Western European person should visit India at least once in his or her life. You may have heard before that you can't come back from India the same person as when you left, and it's absolutely true.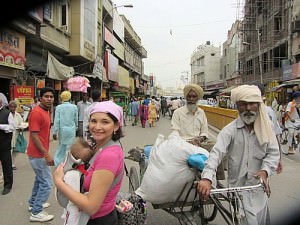 Essentially, it's everything you've heard it is, except much more intensely so. Mere words cannot do India justice. In this one country, teeming with 1.27 billion human beings, it's a foregone conclusion that one will encounter both the best and worst that life has to offer…often within seconds of each other, and at such a rapid pace that even the most seasoned traveler is left exhausted and breathless by the end of day one.
Make no mistake, you don't have to depend on luck to deliver the most amazing sights imaginable. This isn't like whale watching in Alaska. You will experience plenty of bizarre, beautiful and/or shocking people, events and cultural customs.
Amritsar, the capital of Punjab state, happens to be a quintessential example of India at both its most exhilarating and frustrating. We got into a taxi at the airport and knew immediately we were in for a nonstop thrill ride…literally. The cab driver played "chicken" relentlessly with oncoming traffic, fortunately scoring a perfect record of victory before we were stopped to a halt by stifling—but utterly fascinating—late afternoon traffic in town (see this video).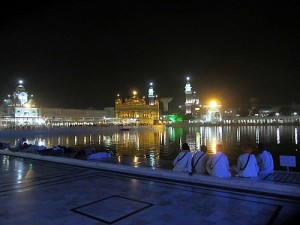 Once in town, the place was wall-to-wall with people…most of them Sikh, given that Amritsar is most famous for being the home of The Golden Temple, the high holy place of the Sikh religion.
By the time we got settled into our hotel and got a bite to eat, night was falling. Inspired by British historian Michael Wood's "Story Of India" documentary on Netflix, we couldn't wait to see the Golden Temple. We caught a cab and away we went.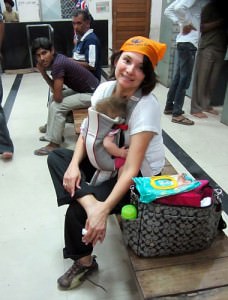 The first thing that strikes you is the serpentine walk from where you take your shoes off (yes, everyone must) and don your headgear (which can be purchased for about $1 USD). You're joined by hundreds of other people on what feels every bit like the religious pilgrimage it is, be it over the course of a couple of urban city blocks.
Finally, you wash your feet in the communal trough by the entrance and pass through the whitewashed gates into what can only be described as one of the most exotic sights possible to Western eyes. The Golden Temple is virtually unknown to most Americans, which upon beholding it only serves as a reminder of how many underrated but incredible locations there are to behold in this big, wide world.
The temple itself shines under lights in the middle of a man-made pool in the center of the sprawling complex surrounding it. The kind of music you'd expect is playing over a central sound system continuously. Absolutely everyone there except us was Sikh. As overwhelming to the senses as the place is, it's no tourist trap. If anything, we felt like infiltrating spies or something.
Nevertheless, we couldn't have felt more welcome. Despite the unforgotten tragedy that befell this sacred location during Operation Blue Star back in 1984, Sikhs are among the kindest, sweetest people on Earth when not intentionally provoked. Having gotten to know them a bit, it makes our hearts sick to think they're often harassed (or worse) by ignorant haters in the US and elsewhere who mistake them for "Al Qaeda".
The moment that nearly brought me to tears was when we gathered with the masses for the 9:30pm ritual inside the temple, which involves a systematic walk-through by all present while music, prayer and other fascinating rituals take place inside. Shortly before the ceremony began, our 4-month-old daughter Sarah wet her diaper and began to cry. As if by magic, the crowd parted and we were given space and encouraged to move to the front of the line. At first my Western impulse was to decline their hospitality, not feeling like we deserved special treatment. After all, we were the outsiders.
But soon I realized that compliance with their generosity made them smile and nod. Sarah stopped crying, beholding the wonder of the golden aura as we entered. The ritual itself was a smorgasbord of sight and sound. The temple is actually rather small inside and is therefore quite crowded, but you can go upstairs as well to get a bird's eye view.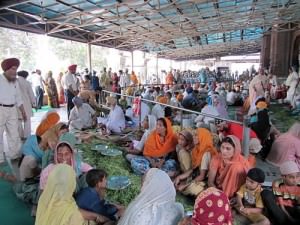 The next day we returned to see what the place is like bathed in sunlight. The most striking part of our daytime visit was checking out the massive, systematic service of full meals to anyone who wanted a bite to eat. Hundreds of volunteers peeled vegetables, handed out trays and cleaned the dishes. Who says there's no "free lunch"?
Apart from the Golden Temple, the other must when visiting Amritsar is to go to the border at Wagah, the only official border crossing between rivals India and Pakistan. Every day at 5pm there is an event that can either be described as either a mock battle or an international pep rally, depending on your perspective. There you are, just meters away from Pakistan, cheering pro "Hindustan" slogans along with the locals as the Pakistanis enthusiastically respond with their own version of national pride.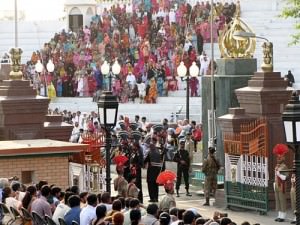 The border gates for both sides are flung open and ceremonially dressed soldiers from both sides strut, sneer and gesture at each other in a characteristically inexplicable way, at least to Westerners. It hits you that as festive and apparently good-natured the "fun" is, these two sides really are international adversaries. It's so strange that I found myself spontaneously laughing out loud and shaking my head.
Overall, I have to say it's a darned shame that Amritsar doesn't find itself on more Westerners' Indian travel itineraries. It's a gem of a place for which the word "amazing" is truly appropriate.
Tune in for other posts in the near future when we'll cover India in quite a bit more detail. We've been to Mumbai, Agra, Delhi and Varanasi also thus far, and there's so very much to tell…some of it tragic, much of it wonderful.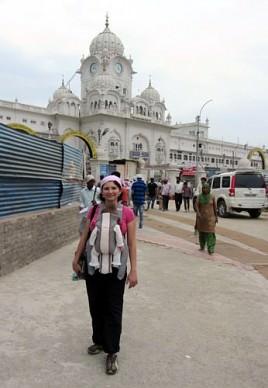 HOW TO GET THERE:
Air India, Jet Airways, and SpiceJet serve Amritsar from elsewhere in India. Flights are generally inexpensive enough to make it the best way to go.
WHERE TO STAY:
We stayed at the Golden Tulip and found it to be very good for a reasonable price.  The restaurant in the hotel is quite good.
HOW TO SAVE MONEY:
Amritsar is not a particularly expensive place to hang out. No worries.
WHAT TO SEE ON A LAYOVER / WHAT TO SEE IN ONE DAY:
Fortunately, this is a no-brainer. See the Golden Temple by day, head out to Wagah for the border ceremony in the late afternoon and return to the Golden Temple again at night if there's time in the schedule.
TIPS AND TRICKS:
Relax and have fun. India is overwhelming, but the people are generally wonderful and eager to help you feel welcome.  Although you may feel stressed and confused, you'll never feel threatened…which is a statement that only India can possibly make sense out of.
TAKEAWAYS:
Amritsar is by far one of the best kept secrets in India, at least to Westerners. Be sure to sample the wonderful Punjabi cuisine, which is a bit different than what you'll typically find in Delhi or elsewhere in India. I started wondering if they were lacing it with something because it's addictive. Delicious!
OFF THE BEATEN TRACK:
The Wagah border is about a half-hour drive, and well worth the visit.  You'll want to hire a tour guide and opt for the preferred "VIP" experience, if available.  There's a special seating section for non-Indian visitors, and it rocks.
COMPLICATIONS:
· Get ready for the traffic thrill of your life.
· You'll need to go barefoot at the Golden Temple, which is not going to make chronic germophobes happy.