Video:  Not the ice road…at least not in August.
"Oh, I don't think you're going to want to do that."
Standing on a rent-a-car lot in Anchorage, the guy helping us had gotten wind of our intentions to drive the infamous Dalton Highway.
"We tried that two summers ago. We had to go about 20 miles an hour the whole way. Popped two tires flat as a pancake in the process. Then we got to the Yukon River crossing and we were completely out of fuel. And the station rumored to be there was completely out of gas too. It was no fun…no fun at all."
Turning to my wife he calmly asked, "So tell me, you like bugs?"
Having gotten the predicted (and desired) answer, he interjected, "Oh, well those skeeters up there will pretty much pick you up and carry you away. Better have GALLONS of industrial strength bug spray."
"And hey, you do know that if you break down up there it's going to cost AT LEAST $5000 to haul you back to Fairbanks, right?"
Needless to say, it was tough on us to hear a report like this. After all, one of the stated do-or-die goals of our trip to Alaska was to get to the Arctic Circle, or bust. It was near the top of Emily's "bucket list".
But for the time being, getting to cross it off was up in the air. Add to the pile the simple fact that we were renting a 12-year-old Jeep Liberty with a big dent in the door and Papa Bear's protective side was starting to show.
Yet, our rent-a-car guy persisted. "And let me tell you, those 18-wheelers spit so much gravel at you you're going to thing you've been sprayed with a shotgun. And they just keep coming atcha, one after the other."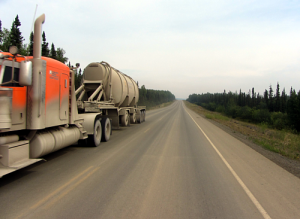 Okay, okay. With that I just had one final question before heading north in the thing. "What's up with the 'check engine' light?"
Chicken Little (aka the rental guy) told us not to worry about it. Go figure. He mumbled something about Chryslers in general before waving us off and wandering back into the office…but not before turning toward us one last time, warning us, "I wouldn't go up the Dalton if I were you."
Here's the thing about renting a car in Alaska. You really can't rent a late model vehicle from a well-known rental company. Every one of them strictly prohibits leaving the pavement in their vehicles. All bets are off if you do, in fact. And on top of that, if you get so much as a star break in the windscreen you'll be out $800 USD.
Considering that broken windshields happen A LOT in Alaska, and that we were at least theoretically planning to drive both the Dalton AND the McCarthy Highway—both unpaved—the best and only option was to rent a used 4×4. We forked over $500 for the privilege of keeping it for nine days.
So there we were, off for the Alaskan adventure of our dreams, perhaps sans the coveted Arctic Circle experience.
But a funny thing happened on the way to Fairbanks. Actually two.
First, the little red Jeep turned out to be a badass. It drove perfectly, despite the persistent "check engine" light. I soon began to trust it like a battle worn stallion. Nice.
But more significantly, we found ourselves next to a retired couple in their seventies for the required bus trip through Denali National Park, which is located conveniently about halfway between Anchorage and Fairbanks.
Having whipped out an iPad full of hi-def pics from their trip all the way to the end of Alaska 11 (hey, that's THE DALTON!) the week before, they were all too eager to tell us all about the trip.
"Yes indeed. We didn't have the slightest bit of trouble the entire time. We rented a Toyota something-or-other and it treated us just fine. Even the mosquitos weren't nearly as bad as they are earlier in the summer."
The pictures reflected that the "Toyota something-or-other" was a Camry, not a Land Cruiser.
Sensing a reality far different from what our rental guy had portrayed, I had to ask the important question. "So um, hey…how fast could you go on the Dalton?"
"Well, I kept it to about 60 or 65 the whole time. I don't think you'd want to go faster than that, although lots of people passed us."
It was ON. Ulterior motives on the part of rental guys be darned, we were going to roll the dice and drive to the Arctic Circle. That meant driving the Dalton, of course, since it's the only road in Alaska that'll get you there (amazing in a way, right?)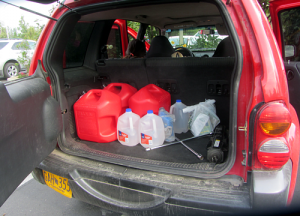 The Day of Reckoning came, and we woke up in Fairbanks at 5.30 am. It was already daylight, natch. Even with an empowered sense of confidence, we still geared up as the websites all tended to warn us to. We packed an entire tank's worth of extra gas (enough to carry us through without a fuel stop), ample food, drinking water and flares.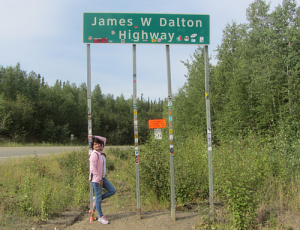 The drive from Fairbanks to the beginning of the Dalton took about an hour and change. Then, there it was…the sign marking the start of Alaska 11. While we were yet standing there taking pictures, a honkin' beat up camper van with Dutch plates putted by us.
I instinctively knew we had this.
And right I was. The Dalton was actually a pretty smooth road, at least in comparison to what we had been prepared for. We indeed went about 60 mph the entire way. Heck, some of the highway was even PAVED.
What's more, since it was a Sunday (RECOMMENDATION ALERT) we passed a grand total of about half a dozen trucks the ENTIRE 220 mile trip. Without exception, each of them slowed down in a courteous manner when passing so as to minimize the dreaded "shotgun effect". Well played, gentlemen.
So here's the thing. You really don't need raw danger or even impending financial doom to have a true adventure. For example, seeing the world-famous Alaskan Pipeline snake before us for virtually the entire ride was very cool, as was crossing the mighty Yukon River.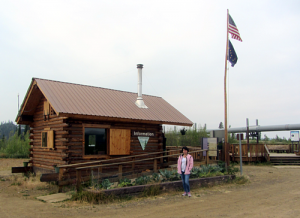 In fact, we stopped at the National Park Service station at the Yukon River Crossing, where the nice lady there told us she had had exactly one flat tire in the entire three years she had worked there. I bought my new Favorite Hat with a Dalton Hwy. logo on it and we took the quick hike to the banks of the Yukon.
Emily donned full mosquito nets for a vicious swarm that never showed up. Meanwhile, my 14-year-old daughter Danielle and I sprayed ourselves with a couple shots of Off and we were good, frankly.
Returning to our trusty Jeep Liberty, I observed a pack of motorclists passing–on the Dalton Highway–followed by a guy pulling a friggin' 26' travel trailer.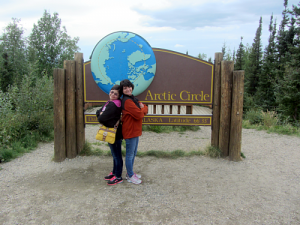 Eventually we got to the understated but entirely significant sign marking the Arctic Circle. There was much rejoicing…and devouring of our ample food supply.
Perhaps hilariously, a couple of octogenarian retirees were there handing out free certificates. And yes, they had driven there from Fairbanks in their Hyundai Elantra that morning. Yawn.
With our confidence at an all-time high, we actually ventured about eighteen miles farther north to the dubiously named Gobbler's Knob, just for the heck of it. We wanted to see the next pipeline station, get a glimpse of the Brooks mountain range ahead and—most importantly—take pictures at "Oh Shit Corner" along the way.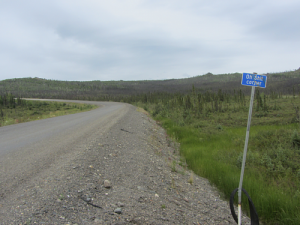 The surprising part about the territory at the Arctic Circle, at least to us, was how GREEN it was. Sure, there was the requisite Alaskan "fireweed", but the place was downright lush compared to what any of us had expected the tundra to look like. And it was WARM…about eighty degrees.
The drive back was mechanically and dramatically uneventful. In fact, we stopped off at a bridge around the 35 mile marker for an impromptu hike. To the girls' utter delight, we watched a family of beavers in the wild doing their thing. It was the best.
Upon arrival back at the beginning of Alaska 11 we paused again for a high five. We had lived. More importantly, the Jeep had survived as well.
We got back to Fairbanks before sundown. Never mind that's after midnight. Danielle was exhausted and fell fast asleep. Meanwhile, it was most definitely "beer-thirty" for Mama and Papa…and a cold growler of Denali Brewing Company IPA was stashed away waiting for us.
All told, this was the quintessentially perfect day trip. To be honest, we were left wishing that we had the time to go all the way to Deadhorse and back, but that's something you'd want to budget several days for. What a great excuse to return to Alaska.
HOW TO GET THERE:
We started in Anchorage and drove to Denali National Park with a quick stop in Talkeetna en route to Fairbanks. You most definitely can find a flight directly into Fairbanks, and depending on where you are coming from it might be about the same price. Still, if you're planning a trip to Alaska's interior of at least 10 days or more, why not start in Anchorage and do the loop up to Denali, on to Fairbanks and back down to Wrangell-St. Elias? You can even mix in a quick tangent to Valdez or Seward, including some seaside action for a truly great trip.
WHERE TO STAY:
Fairbanks isn't exactly cheap, but we stayed at the Wedgewood Resort for $109 per night and found it to be perfectly decent.
HOW TO SAVE MONEY:
Rent a used 4×4, which is actually a must once you get off the beaten track.
Go to the relatively excellent Fred Meyer grocery store and stock up on food and Alaskan beer.
TIPS AND TRICKS:
Go on a Sunday afternoon to avoid most of the trucks.
August seems to be the best time to go.  It's warm and there are far fewer mosquitoes.
There are places you can stop along the way and actually touch the Alaskan Pipeline.  Emily in particular thought this was super cool.
Be sure to stop at the National Park Service station at the Yukon River Crossing.
Grab a map of the Dalton Highway online before driving it.  The significant sights (including the Arctic Circle, of course) have mile markers: http://www.blm.gov/style/medialib/blm/ak/fdo/dalton.Par.83804.Image.-1.-1.1.gif
TAKEAWAYS:
Alaskan cruises are nice, I'm sure, but don't sleep on the idea of roadtripping the interior of Alaska. The majestic landscape, great wildlife, cool people, cold beer and unbeatable DIY adventure factor make for a great trip.