Video:  Hanging Out At Steve Irwin's Australia Zoo
I took up surfing back in my freshman year of college. It's no coincidence that around that same time I started subscribing to Surfer magazine. And let me tell you, while the spellbinding pictures from Hawaii found between the hallowed covers of that publication were always inspiring, it was Australia that always beckoned the 18-year-old version of myself.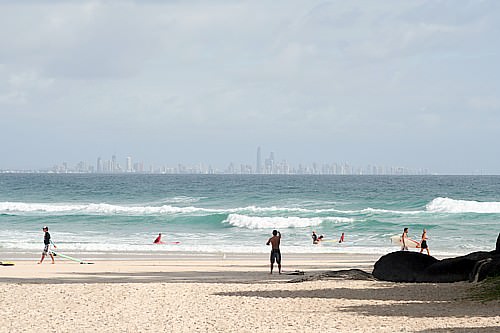 There was a mystique that couldn't be denied. The "no worries" Aussie attitude was so refreshing vis-à-vis my American world where lawyers seemed to dictate the rules. They had a cool way of speaking that occurred to me as somehow exotic.  And then, there was the simple fact that it was so far away.
Everything conspired to make me want to fly "down under" and take in as much as I could. So once the opportunity finally presented itself over twenty-five years later, you know my first thought was to make the pilgrimage to the place I fell in love with while vicariously thumbing through the pages of Surfer magazine: The Gold Coast.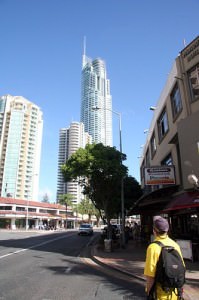 Although you can spend more and fly directly to the Gold Coast airport, we saved a few bucks by flying to Brisbane from Cairns, then taking about a 50-minute shuttle ride to Surfer's Paradise.
Upon arrival in "Surfer's", two realizations struck us.  First, right away we were amazed at how vertical the place is. No kidding, the condos here are tall…the highest of which registering over 100 floors. Second, upon venturing to the beach shortly after check-in we were confronted with the irony that "Surfer's Paradise" wasn't exactly as billed.  Maybe it should be renamed "Skyscraper's Paradise".
"Aw, yeah.  Right mate…you'll want to catch a bus down to Burleigh Heads or Snapper Rocks. That's where the waves are." The locals were more than happy to point us in the right direction.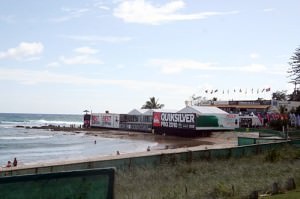 Burleigh Heads. Snapper Rocks. Two places that are legendary in the minds of surfers worldwide. As fortune would have it, the Quiksilver Pro surfing contest was taking place while we were there, so Emily and I caught a bus and went to Snapper Rocks to observe the festivities.
When we got there, we were struck by how intimate an environment a world-class ASP-sanctioned pro tour surfing contest really is.  It was free to wander around and watch the event, which was unexpected and refreshing.  But ultimately, it was the food, beer and irresistible souvenirs that conspired to burn a serious hole in my wallet.
Kelly Slater had just gotten out of the water after an unsuccessful bid to reach the finals. In the distance across the water you could see the massive high-rise buildings dotting the Surfer's Paradise coastline a number of miles up the beach where we had come from.
The finals! Incredibly, we had come at exactly the right time on exactly the right day to watch the contest reach its culmination. It was a joy to behold Taj Burrow's masterful triumph over Jordy Smith and to look on as the champagne flowed afterwards.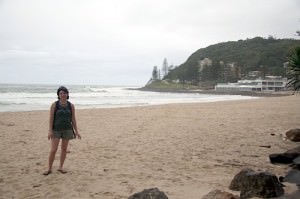 From there we got back on the bus and backtracked a bit to Burleigh Heads.  It had started to rain, but dozens of surfers were in the water—apparently oblivious to both the weather and the fact that a world-class surf contest had been going on in their backyard.
Emily and I took in the sights of the quaint seaside town, finally stopping in at the HotStuff surf shop. This place was special to me because my first genuinely nice surfboard was actually a HotStuff Wayne Bartholomew Model, complete with the "WB" Bugs Bunny logo. So good grief, who could miss the opportunity to see this place? As is often the case, the surf shop itself was tiny, with the board shaping done off-premise. Emily scored a pretty hot bikini from there nevertheless, and we got back on the bus to return to Surfer's Paradise.
Hanging out at the beach in Australia is a lot like hanging out on the beach in California, except with a different accent, of course. The sun rises over the beach like it would in Florida, and that's a big difference.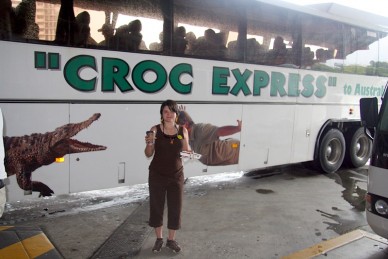 I've always been a huge Steve Irwin fan, and am still in mourning over his untimely death.  So since we were more or less in the neighborhood, we caught the the "Croc Express" to Steve's Australia Zoo, which is located in the town of Beerwah.  Simply saying "Beerwah" aloud makes me thirsty.  Anyway, the "Croc Express" is actually operated by international bus tour operator Gray Line and included entrance to the zoo for about $105 per adult.  Kids are about $72.
The two-hour ride from Surfer's Paradise goes quickly and you arrive in time to spend a nice, full day at the zoo.  It was rainy for most of the day we were there, but that didn't stop us from enjoying the heck out of the place.
In keeping with the "no worries" Aussie attitude, kangas and wallabies freely roam the property.  You can pet them, but do watch out for their surprisingly potent kick reflex if they feel threatened.  I can't say I got to experience a kangaroo boxing match first hand, but you'll definitely want to rein in toddlers.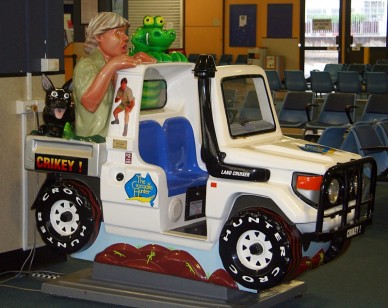 The Australia Zoo was bigger than I expected it to be, and in addition to an abundance of Aussie fauna there are plenty of elephants, lions and other non-indigenous species.
Listen to me.  I sound like freaking Marlin Perkins or something.  Nevertheless, it's important to note that despite not exactly being a free-range natural habitat, the animals appear to be well cared for and given all sorts of room to roam.  Apparently, many of the animals there are rescued from other less-enviable situations rather than plucked from the wild.
There's an unmistakably Aussie vibe to the whole place, of course, down to the easy-going signage and liberal usage of the word "crikey".  In light of the simple fact that Australia is a pricey place to hang out in general, we found the gift shop to be a fair dinkum bargain and well stocked with irresistible swag.  My Australia Zoo rain jacket has become one of my favorite articles of clothing and I pack it everywhere we go.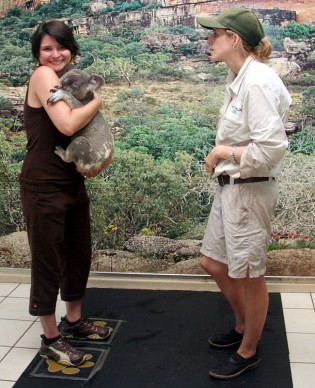 The highlight for Emily was getting to hold a real, live, sweaty, eucalyptus scented koala bear.  I gave in and forked over another $40 to 'ave a go myself.  After all, where else, right?
The legendary croc pens we've all seen on Steve's show "The Crocodile Hunter" are all still there, of course, with plenty of feedings and other shows to entertain the masses. There are walking trails, lots of tree shade and an curiously unexpected lack of Irwin worship going on.
Personally, I was fascinated by watching the Tasmanian Devils, which look and act remarkably like the cartoon version, within reason.  For example, one little dude kept running around a circular path about as fast as he could.
All told, the Australia Zoo is a lot of fun for any Steve Irwin fan, and an experience that's well worth the effort to get there.
HOW TO GET THERE:
Take JetStar Airways or Virgin Australia (formerly Virgin Blue) to Brisbane or Gold Coast. You're likely to find that flying into Brisbane and catching a shuttle (which is easy) will be much more cost effective.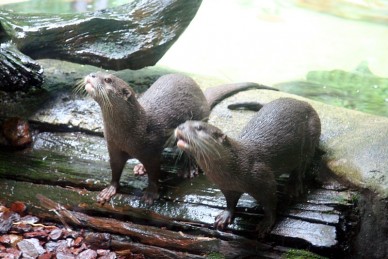 WHERE TO STAY:
The Gold Coast is replete with options. A quick check on Trip Advisor should prove highly productive. We stayed at the Holiday Inn for about $110 per night during their summer season (March) and it was perfectly fine.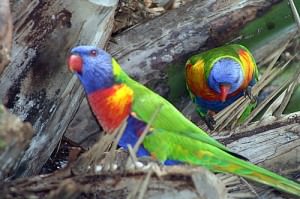 HOW TO SAVE MONEY:
Take the bus rather than renting a car. You'll find that the Gold Coast, like many other beach resort areas, only has one real main drag.