I thought for a good five minutes about exactly which adjective to use in the title.  The right one may yet be eluding me.
After all, Belarus isn't exactly "forgotten"…or is it?  From the American perspective, I suspect more of us are simply ill-informed about it.  One can't exactly "forget" a country that one knew little if any about to begin with, right?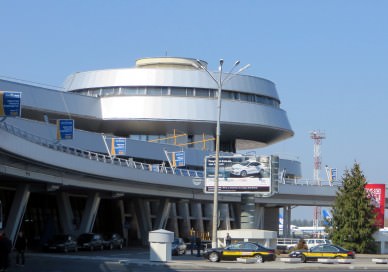 And those of us who live far away from northeastern Europe really cannot be blamed for our wholesale ignorance.  After all, a bunch of us have only ever heard about Belarus during the opening ceremonies for the Olympics.  If you've caught wind of the place elsewhere, its name may have been rendered as "Byelorussia" or "Belorussia".
Ask someone about "Bellarussia" and it's a 50/50 shot that they'll simply think you're talking about "Beautiful Russia" or something.  Perhaps it's Italian for "Russia"?
People don't really know.  And in large part, they don't really care.
From there you take into consideration that the Belorussian government would pretty much prefer that you stay away.  According to reports, over half of the people who ever visit Belarus simply transit through the airport.  That transit visa can cost as much as a whopping $300 USD per person.
If you want to stay a while, you can apply for a visa ahead of time.  But even that will cost you $160 smackers.  Plus, you'll need to have your transportation and lodging arranged in advance, and have a written formal invitation from someone qualified in Belarus to issue one.  And when you arrive, every report seemed to indicate that you'd be required to purchase short-term medical insurance at the airport on top of all else.  Seriously?
So then, back to my original question: Is "forgotten" the right word?  How about "overlooked", "mysterious" or even flat out "avoided"?  You could make the case for any of those descriptors.
Nevertheless, being the travel dorks such that we are we had that much deeper a craving to see this place.  And as it turns out, we found the pre-trip preparations to be far less complicated than expected.
That was entirely due to having found the right "fixer" in Andrei Burdenkov, who is actually incredibly easy to track down at http://www.minskguide.travel.  If you do any search in English about visiting Belarus, or the capital city of Minsk in particular, his name is going to come up in the results.
We contacted Andrei and no kidding, he responded within minutes.  He gave us step-by-step instructions for getting the invitation, arranging lodging and completing the bizarre visa form.  His services were almost too inexpensive, so needless to say we also arranged a Minsk City Tour with him for about $100 USD along with airport transfers.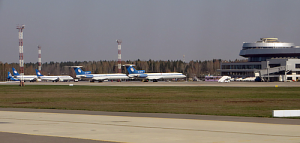 Finally the day came when it was time to fly to Minsk.  We actually arrived inbound from Kaliningrad, Russia (which will be the subject of a future post).  Being a geek for obscure and even exotic airlines, I was really psyched to fly Belavia, the Belorussian flag carrier.
At this point it would be useful to explain that Belarus is, by all accounts including ours, the most Soviet nation left in Eastern Europe.  Basically, if you want to get a load of as much old-skool Soviet stuff as you can, Minsk will fascinate you to no end.
So the very Soviet looking cheatlines of the Belavia livery were a very cool first impression.  The service was actually more than adequate (by Soviet standards, at least) and the plane itself was a new-ish Embraer 170.
Landing at "Minsk 2" airport was a treat.  Belavia apparently still flies ancient Tupolev Tu-154 jets, several of which were lined up right next to us as we deplaned on the tarmac.  The terminal itself is stereotypically Soviet, complete with the perfunctory flying saucer looking structure built in.  (What was up with the Soviets and flying saucer architecture?)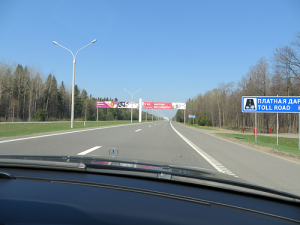 Weirdly, and ironically, we never went through customs.  As it turns out, flights from Russia are treated as domestic travel!  I have to say, we sort of felt ripped off, having gone through the whole visa process and all.  Soon enough, we met our tour guide Andrei who assured us we'd be VERY glad we had our paperwork in order upon exiting the country.  Right he was.
We traversed nearly empty superhighways at first, reminiscent of photos from North Korea.  We were told that was because it was some sort of holiday.  Once in town, about a forty minute ride, we indeed saw plenty of cars…along with LOTS of red stars, hammers and sickles.  It was like being in a Soviet time warp.
Arrival at the hotel only reinforced that impression.  We opted for the infamous Planeta Hotel, which lived up to its advance billing as "The Most Soviet Hotel In Minsk".  Fair enough.  The rooms really did remind me of the ones I had stayed in when visiting the Soviet Union back in 1986.
Ultimately, however, I can't say I recommend the Planeta.  Whenever we encounter unfriendly hotel staff, which isn't actually all that often, the first thing I do is make a conscious effort to lighten them up a little.  Nothing doing at the Planeta.  Well fine, then.
Next, we decided to give the hotel restaurant a try.  Big mistake.  All I can say is that when food is already pretty gross, it's an easy decision to go hungry when you realize you're looking at probably 5000 mostly-empty calories worth of greasy fried pork and mushy draniki (potato dumplings) staring back at you angrily from the plate.  I mean, if the grub is that fattening, it had better at least taste good enough to be worth it. That's rule number one.
Things started looking up when we ventured outside the hotel and began looking around.  It was Easter weekend and the main churches by the Svislach River in town were teeming with celebration.  One interesting Easter tradition involves a whole new twist on Easter baskets.  Basically, families bring "pot luck" dinners (including eggs, natch) to church in them and share all of the food amongst themselves.
We found a restaurant called Planeta Pizza and ate there despite the branding, hence the inherent risk of it being connected to the hotel somehow.  It was cheap and pretty good.  Several diners adjacent to us overheard us talking and asked us to join them.  They don't meet many Americans in Minsk.
Indeed.  We couldn't help but notice that Andrei wasn't a particularly busy or wealthy tour operator.  He told us that only about 300 tourist visas per year are issued to United States citizens.  That's not per hour, per day or even per week.  That's per year.  Fewer than one American per day pays a visit to the entire country.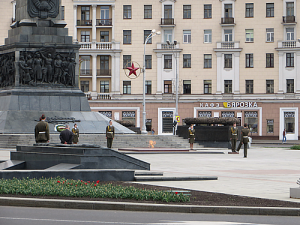 Minsk was a blast to experience, and actually very walkable.  The Independence Square is impressive, and very Soviet, as is the Victory Square, honoring the staggering numbers of fallen soldiers in the "Great Patriotic War" (aka WWII).
Although a visit to Moscow reveals that not as much has changed since the end of the USSR as you might think, Minsk is at a whole different level.  For starters, the KGB is still there…complete with a disarmingly pleasant looking pale yellow headquarters building.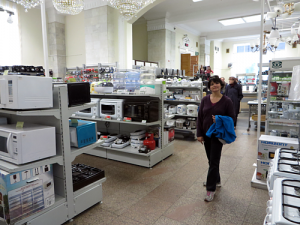 Similarly, while the former GUM department store on Red Square is now a trendy shopping mall, the GUM in Minsk is still replete with all the communist-era stuff you'd expect.  For me at least, buying an affordable Belorussian-made watch with Cyrillic characters was a must.
For Pete's sake, people in Minsk actually restore old Moskvitches and Volgas as classics.  Not only does Belarus continue to hang on to the Soviet style, some are apparently even nostalgic about it.
All told, if you have any interest at all in getting as good a glimpse of what the Soviet Union was like as is humanly possible in the year 2015, then definitely add Minsk to your travel list.  You'll discover an underrated, if overlooked destination.
For us at least, it was—perhaps ironically—unforgettable.
HOW TO GET THERE:
Belavia flies to a number of European points.  The major Russian airlines also serve Belarus from Moscow and St. Petersburg.  Air Baltic from Riga is a terrific option if it makes sense for you.
WHERE TO STAY:
If you want true Soviet style (or lack thereof), go with the Planeta Hotel for sure.  There are more hospitable, more charming options in town if you'd rather have a different experience.
HOW TO SAVE MONEY:
Perhaps weirdly, Belarus is not inexpensive, especially in comparison to other Eastern European capitals.   You're not going to find much in the way of western fast food in Minsk, save for McDonalds.  Planeta Pizza is a solid, relatively inexpensive option.  There are also some restaurants in the old town that serve far better local fare than what we encountered at the hotel, along with a cold half-liter of Alivaria lager.
TIPS AND TRICKS:
Hire Andrei Burdenkov and relax…
TAKEAWAYS:
Minsk is wonderful proof that some of the most underestimated travel destinations are also often the most underrated.  Minsk is a one-of-a-kind place in today's world.