Video: Awkward Turtles
It was early autumn, 1991. I found myself at JFK airport waiting for a flight to Caracas, Venezuela.   I had won the trip so I was super excited about it.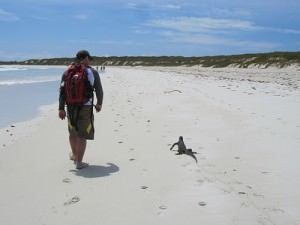 A woman who must have been in her eighties sat next to me.   She was quite outgoing, and broke the ice with me first. Before you know it, she was recounting memoirs of her extensive travels and I was utterly fascinated.
Finally, I asked her what her favorite destination of all time was.
"Oh, Galapagos. Yes, definitely. The animals…everything about it."
In that moment, like a flash of lightning, the die had been cast. One day I was going to go there.
In the years since, however, there have been massive obstacles in the way.  Never mind the simple fact that the jumping off points of mainland Ecuador or Peru haven't always been politically friendly places to visit.  Up until relatively recently there were only a couple flights in an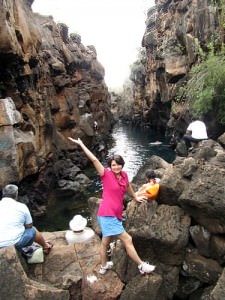 d out of the Isla Baltra (GPS) airport per week.
But the main hurdle has always been cost. Everyone who researches a potential trip to this storied atoll steeped in intrigue quickly finds out that to cruise around it for a week or so is going to run upwards of ten grand per person.
Ain't nobody got that kind of money. Nobody in THIS household, at least.
Nevertheless, Emily and I found ourselves there…in mid-January, a great time to go.  It was magnificent, living up to every expectation.
We went ocean kayaking and saw blue-footed boobies. We walked with marine iguanas on a pristine beach made famous by spawning sea turtles. We cruised the open water watching dolphins surf the waves. We swam with sea lions on the iconic island of St. Bartolome.   We even visited the Charles Darwin Research Station, met Lonesome George the giant tortoise and bought the t-shirt to prove it.
Best of all, it didn't cost us over ten thousand dollars.   Granted, we only spent four days and three nights there, but all told we spent about fifteen hundred. That's it.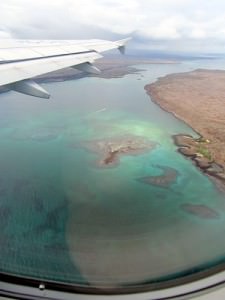 There were four major factors that allowed us to do that, each involving a bit of "out of the box" thinking.
First, with a little research we realized that we could have a rich Galapagos experience by staying in a hotel in Puerto Ayora, the largest town in the archipelago. We didn't have to do the cruise thing.  We paid $414 total—including taxes—to stay three nights at the very nice and friendly Galapagos Suites, which despite the name was actually a charming, airy bed and breakfast. It wasn't just adequate, it was great. It was a rare situation where the pictures on TripAdvisor don't actually do the place justice.
From the airport you take a short five minute ferry ride to the island of Santa Cruz, and then catch a pickup truck taxi for the forty minute ride south to town. Once there, you'll find plenty of fun restaurants that actually won't break the bank. You can inexpensively rent mountain bikes ($30 for both of us) and ocean kayaks (about $100, with guide), both of which we did. In recent years they've even installed several ATMs in town. Ecuador uses US dollars, which rocks.
Second, we discovered that you could actually book day trips from Santa Cruz to catch a boat and see other islands. We chose to venture out to St. Bartolome. If you've ever caught a documentary about the Galapagos Islands on television (and who hasn't?) then you've seen footage from St. Bartolome.  For a whole $125 per person we had a great open water trip out there, a brief climb followed by a stunning view, a chance to go snorkeling with sea lions by Pinnacle Rock, beach time with marine mammals and lizards, lots of classic photo opps. and lunch on the way back. What more could you ask for?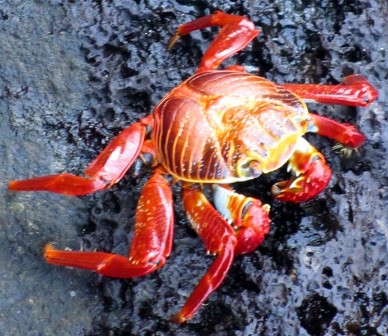 The third factor was perhaps the most significant. You see, the coolest part about Puerto Ayora is that most of the experiences you immediately associate with the Galapagos Islands can be had right there.  With a kayak you can paddle your way to beautiful lagoons and observe all of the flora and fauna you expect to see. With a bike and/or a hike you can see the beaches, discover the spectacular "hidden" spots only locals tend to know about and get immersed in the local culture. Even the famed Charles Darwin Research Station is there.
Hey, so what about the flights? Ah…that's the fourth factor. The trick there is that we didn't simply book flights to GPS (Isla Baltra).  We were already in South America for a few weeks, and figured out something remarkable almost by accident. Basically, we knew we wanted to go to Cuzco, Peru and also to Medellin, Colombia to visit friends. (Both of those will be featured in future posts, by the way.)  By playing with open-jaw multi-city itineraries on TripAdvisor, we worked out a scenario where the plane tickets from Cuzco-Isla Baltra-Medellin were only about $100 more than the ticket from Cuzco to Medellin directly. Are you kidding me? Nope…no kidding.  We learned to love LAN Airlines, despite the bad rap it gets from some people.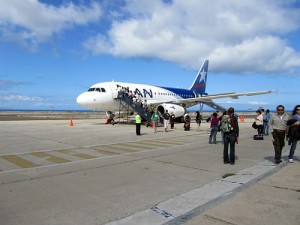 But it gets better. There was evenan 18 hour layover in Quito built in, which we took full advantage of. There was time for a trip to "La Mitad Del Mundo" (where the equator is, sorta), followed by a walking tour of the city center and The Best Sea Bass Dinner Of All Time. Nice.
If you've been doing the arithmetic then you already realize I've only accounted for about $1000. The truth is we splurged a bit on restaurants. We also couldn't resist a few badass souvenirs here and there, including necklaces handmade from cactus pieces while you watch. Then there's the $100 per person National Park fee that I've conveniently forgotten to mention until now. The entire archipelago is a National Park, and everyone is required to pay upon arrival.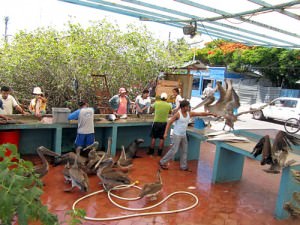 Come to think of it, we also had to buy a change of clothes because our luggage was delayed by 24 hours.  For what it's worth, that was our fault. As it turns out, you've got to claim your luggage at the first port of entry into Ecuador and re-check it on to GPS, just like you have to do in the States. Our bags therefore languished in Quito for a couple of days before being forwarded on to us.
When we caught the pickup truck back to the airport on our last day there, Emily and I spontaneously high-fived each other. Good grief…we really, seriously had wrung the heck out of our Galapagos Islands experience and felt like we'd left nothing on the table.
That wise elderly lady at JFK twenty years earlier had been on to something. The Galapagos Islands now rank near the top of our list of favorite places we've ever been as well.
HOW TO GET THERE:
Direct flights from Quito, Guayaquil or Lima have been trending down in price, but you'll still pay about $650 per person. The best way to go is to incorporate a hop to Isla Baltra (airport code "GPS") into a multi-city itinerary within the context of a more elaborate South American journey, as we did.   LAN and Tame will be the cheapest flights there, most likely. There's a Galapagos-centric airline called AeroGal, but for some reason their fares are typically sky high by comparison.
WHERE TO STAY:
There are several bed and breakfast type places in Puerto Ayora that are charming, clean and friendly. Don't expect a TV and you'll be a happy traveler. We stayed at Galapagos Suites and were thrilled, at least until an Australian woman thought I was Emily's Dad…go figure.
TAKEAWAYS:
Don't listen to the hype. As exotic a destination as it is, Galapagos is accessible to more travelers than ever before. You simply have to be creative instead of following the herd.
OFF THE BEATEN TRACK:
Definitely ask the locals where to go exploring. They'll tell you about secret spots. Definitely also hike to the "Turtle Beach"…highly recommended.
COMPLICATIONS:
Claim and re-check luggage at your first POE into Ecuador
Budget $100 per person for the National Park fee
Prepare yourself for a ferry ride and a 40-minute pickup truck ride from the airport to Puerto Ayora