Video:  Here's a view from the Angkor Complex that you don't often see…enjoy!
We had been sitting at lunch during a group tour two years earlier in a completely different country.  As is inevitably the case, the conversation among fellow travelers turned to favorite destinations.
Italy.  London.  Hawaii.  All the usual suspects came up.  But finally, a departure from the norm:  "Siem Reap, Cambodia.  Hands down.  That's my favorite place ever."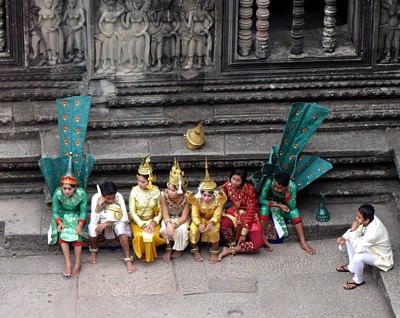 The thirty-ish guy speaking made his opinion known with a twinkle in his eye like none other at the table.
Emily and I were more than intrigued.  After all, the year before we had been kicking back in a hotel room in Hong Kong—exhausted after a day-long excursion to Macau—when we flipped on the TV and found ourselves mesmerized by a BBC documentary on Angkor Wat.
"We've got to go there someday, for sure", Emily had announced at the time.
Ultimately we indeed found ourselves in Siem Reap, immediately understanding why our fellow traveler from a past journey had been so fond of the place.
Honestly, it was with considerable trepidation we arrived there.  After all, there wasn't particularly clear information on the Internets about what to expect, other than the temples of course.
Were we there despite the nervous energy we felt or because of it?  Such is the glorious tension ever present in the heart of an adventure traveler.
Although we correctly figured there would be more at the market than bugs and fried tarantulas, we braced ourselves for outlandish cuisine.
Given the past, we had no idea what the local folks would think of westerners, especially Americans.
And then there was the straight-up fact that the Khmer Rouge had murdered one third of the population of their own country…and it wasn't that long ago.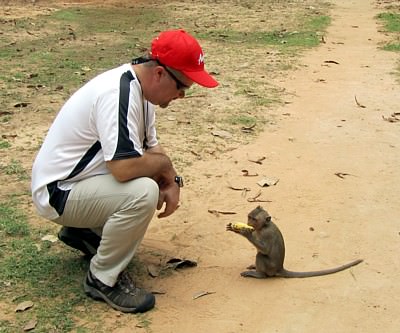 It was therefore with a distinct sense of irony that we arrived at the albeit small but virtually brand-new and beautifully appointed Siem Reap International Airport.  The first of many, many smiles we encountered was from the border agent, who welcomed us warmly.
Clearly, Siem Reap understood the bonanza that their tourist potential truly holds, which even now is only beginning to be realized.
Make no mistake about it.  You'll want to hire a tour guide when you visit Siem Reap.  Not only is it reasonably inexpensive (like most everything else in Cambodia) to do so, it's practically a necessity.  I almost have to laugh at the idea of, say, renting a car and attempting to hit all the sites on one's own.
The town of Siem Reap itself is rustic, to say the least.  Nevertheless, it has a charm all its own.  The Cambodian culture is neither Thai nor Vietnamese, of course, but occurs as a wonderful blend of each with a vibe all its own thrown in for good measure.  You respect the rich Khmer culture and begin to adore it almost immediately.
Obviously, we couldn't wait to start exploring the Angkor Complex, which is far more vast than most people realize.  If not for the calm restraint of our tour guide and official government historian (a nice touch), we may have burst through the place like kids in a candy store.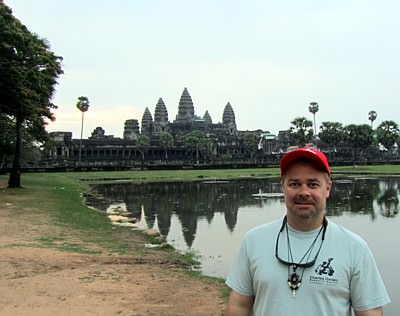 Sure, there's Angkor Wat.  And it didn't disappoint, despite the fact that it had already been cleaned up and restored far beyond what was apparent in the documentary we had seen just a few years prior.  We began there very early the morning after our arrival, which was based on the solid advice that sunrise there is stunning.
Nevertheless, there were far more ancient Khmer ruins to see.  Thankfully, and amazingly, the majority of them were still largely au naturel, to our utter delight.  Unexpected cool places to explore were around every corner.  Truly, this is one of those destinations where you are rewarded with sights and experiences that far surpass what's shown on TV.  You just gotta love when that happens.
Ta Prohm in particular has become quite famous in recent years (see Tomb Raider), largely due to the vines and tree roots that intertwine with the temple walls.  Nevertheless, there were other lesser-known standouts, including Bayon with its massive stone faces built into the structure of the place.
Ragged walls, steep steps, seemingly no boundaries.  Exploring the Angkor Complex is a once-in-a-lifetime opportunity to live inside a real-life video game.  That's exactly the sense you get.  You find yourself addicted, wanting to go to more, more, more equally surreal and delightful places.  You can't get enough, and your tour guide will likely oblige.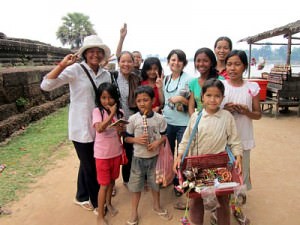 As spectacular as the Angkor sites are, that was to be expected.  But it's the Cambodian people who were even more unforgettable.  Tragic, heartbreaking signs of the past are everywhere.  To visit Cambodia, one must be prepared to encounter the scars borne by a nation that has suffered perhaps as much as any in modern history.  Nevertheless, it's the smiles—the utter happiness found in the contentment of modern-day peace—that stays with you.
Emily and I happened to wander into a small marketplace, only to realize it was being run almost entirely by about a dozen children under 12.  Two teenage girls eventually appeared, and soon it appeared that they were the matriarchs of what was now a family.  We made it a point to buy enough bracelets for my daughter's entire sixth-grade class back home.  "Buy some from her", one little girl suggested while pointing to a particularly adorable girl of about three.  "She doesn't have a mother or a father, and she's just little."
Eventually, the same precious little girl offered Emily a bracelet as a gift, which touched both of us immensely.  You couldn't help but want to adopt all of them and love them forever.  Except that to do so would have somehow seemed presumptuous.  The kids all smiled and laughed together non-stop.  They were happy, even without the modern conveniences that we as comfy middle-class Americans believe we can't do without.  And even without parents.
All over the country there was a similar vibe of almost defiant contentment and happiness.  Cambodians are resolute about taking their country back.  With relative peace comes an opportunity to savor and enjoy life that hasn't really been felt in who-knows-how-long.
Make no mistake about it.  The people you meet along the way are invariably the highlight of any successful journey.  You can add us to the list of those who count Cambodia as a beloved favorite nation to visit.
HOW TO GET THERE:
You'll need to connect from a major Asian capital such as Singapore, Bangkok or Kuala Lumpur.  Air Asia is an excellent choice.  The national airline, Cambodia Angkor Air is an unsung delight, featuring great service and virtually brand new airplanes.  You can catch them from Hanoi or Ho Chi Minh, also now with service to Shanghai—another possible connection point.
WHERE TO STAY:
Don't expect scads of five-star hotel rooms, although the inevitable construction is most certainly underway.  We stayed at the small, family-run Angkor Pearl Hotel and were thrilled.
HOW TO SAVE MONEY
There's a popular tourist street in the heart of Siem Reap called Pub Street.  While you may satisfy your craving for somewhat conventional western food there, you'll save money by eating and especially drinking elsewhere.  Angkor and/or the curiously named competitor Anchor (pronounced "Ann-chore") beer is ubiquitous and cheap. Like with most Asian beer, you can expect a fairly decent lager.  Feel like a king by teaming up with other cool tourists and alternately buying rounds for the house, all for a grand total of perhaps about $12 USD.
WHAT TO SEE ON A LAYOVER / WHAT TO SEE IN ONE DAY:
If time is short, arrange a tour guide ahead of time and see as much of the Angkor Complex as time allows.  It's as simple as that.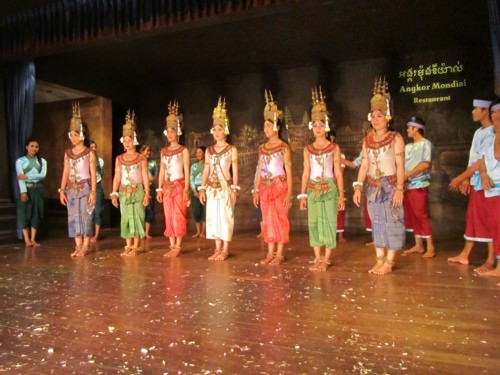 TIPS AND TRICKS:
You're not going to be able to escape the children everywhere who wish to sell you souvenirs, so you might as well enjoy the experience. You'll marvel at both their English and their sales skill.  Should they be in school instead?  Absolutely…but you can either ignore them on principle or make a new friend.  We won't judge you either way.
Don't miss the opportunity to take in a traditional Apsara Dance performance. If you go to a place like the Angkor Mondial Restaurant you'll pay $12 USD for dinner and the show.  Even though it's a tourist trap, it's not like you're going to see spontaneous Apsara dancing in the street (much) so it's a good deal.  Never mind the mixed reviews on Trip Advisor, in our estimation it's well worth it.  It's also over in time to go get a beer before turning in before a full day of temple hopping the next day.
Offer a bartender somewhere about $3 USD and keep a shop-worn Angkor beer glass as a souvenir. They're cool.
Buy bananas from some kids and hand feed the monkeys. Try not to sweat the germs; that's why there's Purel.
If you're traveling as a tourist, do the E-Visa. It's a no-brainer:  http://evisa.mfaic.gov.kh/
TAKEAWAYS:
Prepare to not only love Cambodia but also to become an unofficial evangelist for their tourism ministry.
If you find the urge to give back, do so through organized and well-established means. The government is yet infamous for misdirection of funds and the like.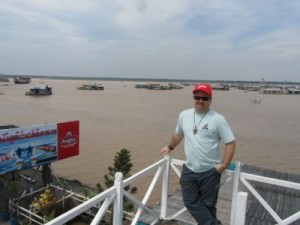 OFF THE BEATEN TRACK:
Consider an excursion to the Tonle Sap floating village if you have the time. It's nearby and your tour guide should be able to arrange it easily.  Don't be shocked when someone shows up out of the blue upon your return to the boat depot and hands you a porcelain souvenir plate with your picture on it.  What I consider to be the single most mind-blowing souvenir sales performance of all time earned the entrepreneur behind this magical and genius occurrence a fast $5 USD without hesitation.
If you fly out via Cambodia Angkor Air, we recommend taking as long a layover in Phnom Penh as you can. This shouldn't add any cost to the flight as the airline's hub is there.  Hire a taxi driver for the day upon arrival.  About $50-60 USD should get the gig for you.