My favorite part of watching The Blacklist on TV is listening to Raymond Reddington tell his micro-stories recounting complex, DosXX-like global adventures…and taking great satisfaction in being able to do the same.
Maybe we weren't chained to a Russian computer hacker in the corner of a gulag, exactly.  But just today I overheard what I thought was Russian being spoken by three ladies behind me in the grocery store check out line.  When I asked them if they were speaking Russian—in Russian—their jaws dropped.
I found out they were from St. Petersburg and they asked me if I'd been.  I responded by recalling the charming Georgian restaurant just off of Sadovaya St. that was not only delicious, but hooked us on Georgian Saperavi wine forever.  Having befriended the owners, they invited us to dance with them in traditional Georgian fashion right there in the middle of the dining room.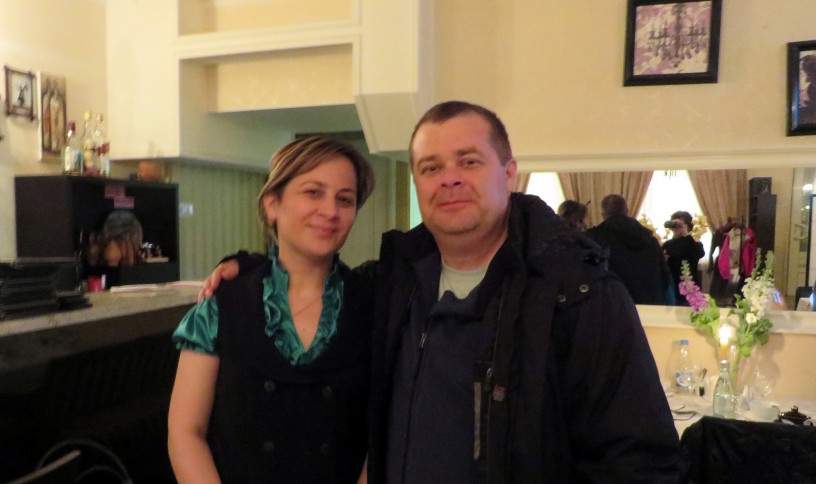 Don't get me wrong.  In real life I don't go around trying to shoe-horn travel stories into everyday conversations.  That would be douchey.  But it's big fun to have a treasure chest of travel adventure memories to draw from when the timing is absolutely perfect.
You know, just like Raymond Reddington does…even though he's a fictional character in a television show that plays like a Marvel comic book.
Indeed, to most people the idea of going on real, live global adventures outside the cocoon of an all-inclusive resort is so outrageous…so exotic…so mysterious…as to seem downright crazy.  Hell, it's still that way to me.
I've often referred to the act of visiting new places, trying new things and crossing off "bucket list" items as "demystifying" them.  For example, we "demystified Sri Lanka", or we "demystified All Nippon Airways".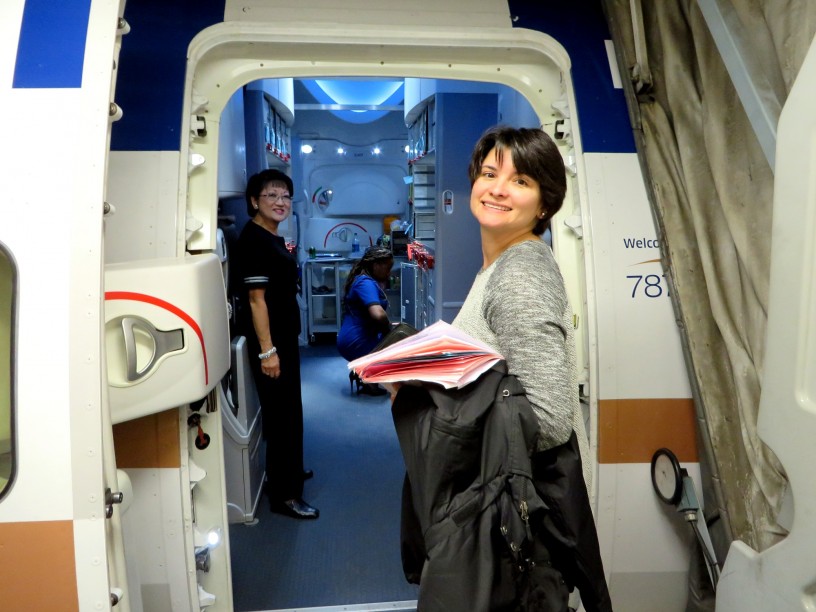 "Demystification", of course, is a gross exaggeration if taken literally.  One can never completely solve much of anything interesting in this life, let alone, say, India.
Rather, I'm giving a nod to that sudden, transformation of the hypnotically exotic into the imminently accessible.  When you arrive at a particular destination or do something you've always wanted to do, it's like scratching an itch.  Unbridled wonder is magnificently supplemented by a degree of objective, real-world knowledge.
Instead of seeing that beautiful robin's egg blue Vietnam Airlines plane all the time at Asian airports and wondering what's going on inside the cabin, you find out.
Instead of merely watching Dominic Monaghan dive the Great Barrier Reef in HD, you intimately understand the reality of it compared to whatever "artistic license" was taken by television producers.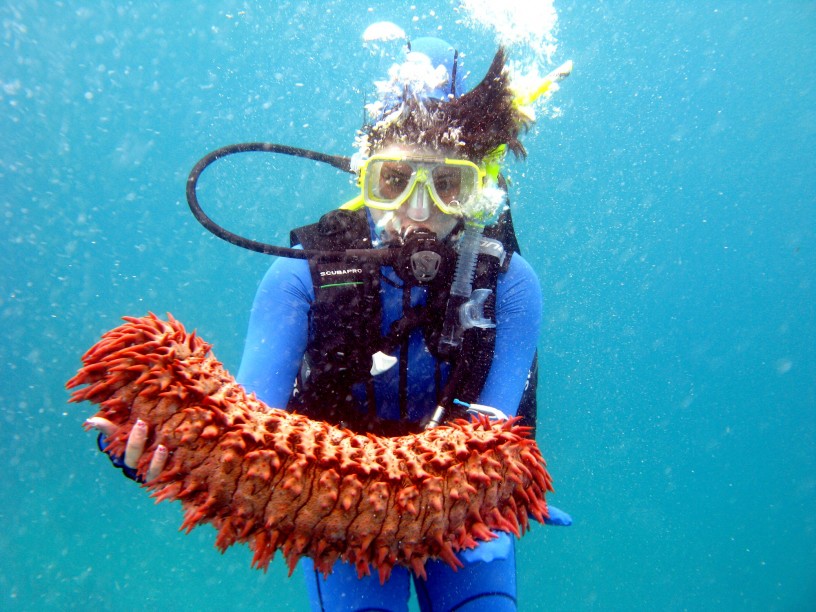 To me at least, that similarly satisfying feeling to quenching one's thirst is a major reason why adventures are so magnificent.  Each one is like a virtual, emotional trophy of sorts.  Nobody can ever take them away from you.
Indeed, it's all so meaningful to us that we've essentially devoted this entire site and the podcast to inspiring you to jump into adventure travel with both feet.
But admittedly, for even the most intrepid adventurer out there the greatest moments are held in high esteem because they're fewer and farther between than others might think.  Whenever you look up any given adventure-junky on Facebook, what you're seeing is a "highlight reel", of course.
Indeed, if only every day could be as off-the-charts as these Top Ten examples were for us (in no particular order):
Coffee With The Medellin Cartel
While in Medellin, Colombia we decided on a whim to take the "Pablo Escobar Tour".  We were pleasantly surprised to discover it was private.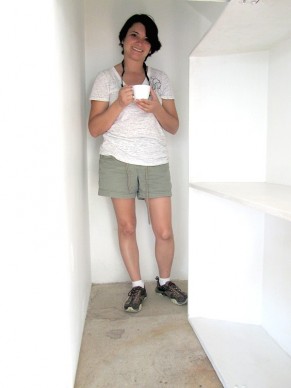 Everything went as expected until our guide casually mentioned that "Roberto was available if we'd like to visit the house and meet him."  Ten minutes later we were in Pablo Escobar's home as his brother's guests.  Pablo's maid still worked for the family and served us coffee.
In another room some older gentlemen were laughing as they recalled old stories.  Pablo's twentysomething nephew flirted with his girlfriend and chased her around the house.
It was surreal.  For starters, the home was in an upscale section of the city, basically hidden in plain sight.
But the crazier part, of course, was that Roberto Escobar is nearly as infamous as his brother.  These people were the reason why most tourists are still terrified to go to Colombia…and we were hanging out with them
We found out later that we indeed got the "unadvertised bonus plan" that day.  There was a camera crew there, and because of ultimately unrealized plans to make the home a "museum", they were in imminent need of a couple of tourists.
I respectfully declined their offer to be filmed.  Fortunately for us, it wasn't "an offer I couldn't refuse".
Exploding Mines On The DPRK Side Of The DMZ
Okay, truth be told, you could simply title this section "we went to North Korea" and drop the mic.  But that would be cheating because the DPRK is actually easier to visit than most people would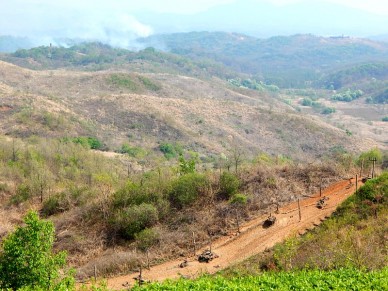 ever guess.
Nevertheless, we could rifle through at least two dozen separate adventures from that trip.  What stands out for me, however, is visiting the DMZ from the north.
A DPRK army colonel and I were having a cordial discussion after he had pointed out the "wall that doesn't exist" in the distance (look it up).  He asked me where I was from, and when I told him he immediately said,"Tim Duncan!"  Seriously, those guys over there really are into the NBA.
But what punctuated the whole event were the landmines exploding a hundred meters away, due to a raging brush fire just beyond the barbed wire.
9/11 On An Airliner To New York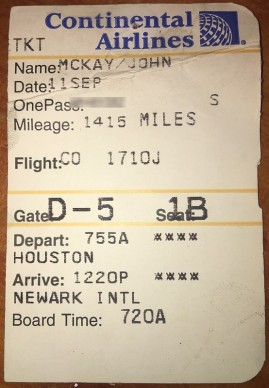 On September 11th, 2001 I was on a 767 bound for New York.  It was 7:55am and we were first for takeoff when the captain announced we were returning to the gate because of an "air traffic control issue related to national security".
I'll never forget the scene back in the terminal after we deplaned.  Men were slack-jawed staring at television monitors.  Women were jumping up and down screaming.
Trading Jeans For CCCP Swag in Moscow In 1986
When my 19-year-old self blindsided my poor parents with the casual announcement that I'd used my summer of '86 pizza delivery earnings to book a tour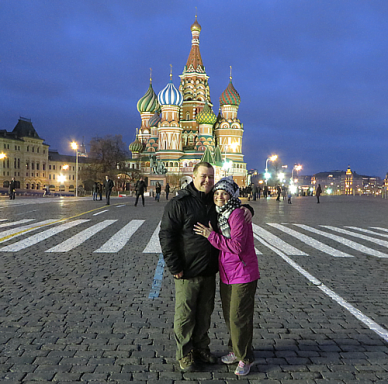 to the Soviet Union, they were uncharacteristically speechless.
But I went anyway.
Among an endless stream of wonderfully bizarre memories that are still vivid to this day, including flying Soviet airliners, what stands out is trading jeans and polo shirts with kids my own age in Moscow.  Talking politics with them—in English—was mind blowing.
One disarmingly beautiful Russian girl taught me a hard but valuable lesson about our common human condition that I still treasure today as a world traveler. "Yes, but your country has already dropped nuclear weapons before.  Imagine how scared we are of the USA."

I clearly remember fantasizing about how she'd look in Benetton clothes.
The "Plank Road In The Sky" In Central China

Hangin' In Central China…Literally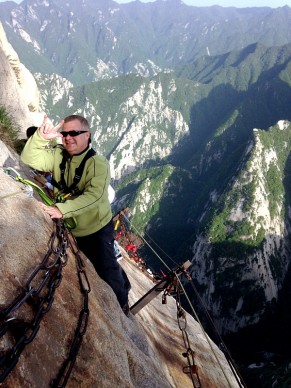 This "trail" at Hua Shan National Park in central China is widely considered the most dangerous hike in the world.  Having seen a Facebook meme about it probably six or eight years ago, there was no denying it a place near the top of my "bucket list".  Better still (on many levels), Emily agreed to be my Huckleberry.
When the big day finally came to do this thing, the experience didn't disappoint.  But given that you're clipped with dual caribiners these days, it was weird how, well… safe it felt up there.
The widely hyped daredevil element was also dampened a bit by the giggling Chinese teen girls in Hello Kitty hats we inched past along the way.  They had been conspicuously absent from the Facebook pictures.
Nevertheless, Hua Shan in general is flat-out breathtaking, and frankly the impossibly high cable car ride to the North Peak was far more harrowing to me than the hike.  We would have loved more time there, as The "plank road" is but one of many adventures to be had in this overwhelmingly beautiful place.
Camping With Lions In Tanzania

It would be super easy for me to cop out and simply put "Africa" on this list.  As in, the whole continent.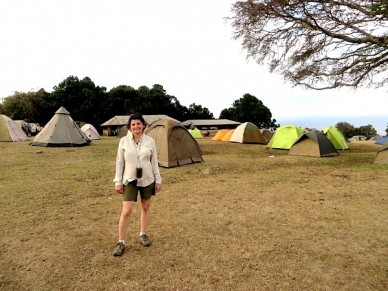 But in fairness, even "east African safari" is too broad a brush stroke.  So I'm going with that one white-knuckle, sleepless night we camped in tents on the rim of the Ngorongoro Crater.
Having heard them roaring in the distance all night, sounding unmistakably closer each time, the pride of lions swaggered right in front of our tent at about 5am.  Their breathing matched what our guides told us the males would sound like, if we happened to be as lucky as it turned out we were.  I made it a point later in the morning to compliment the fellas on their impersonation, as it was impeccable.
Both Emily and I agreed we had never felt more alive in years.  When we "woke up" at sunrise about an hour later, suffice it to say I surveyed the area really well before making the 100-meter hike to the latrine.
Herding Yaks On Horseback In Mongolia
I've Been Through The Steppes On A Horse With No Name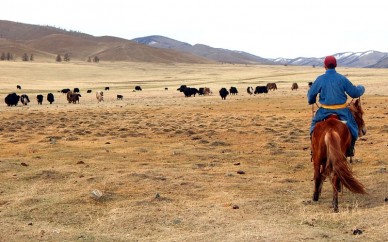 Riding horses out west here in the United States is cool enough, especially if you get to be a cowboy for a day and herd some cattle.
But this was in Mongolia.  And we got to herd yaks, for God's sake.  All of this was with a macho (but completely cool and down-to-earth) Mongolian master horseman named Puje guiding us.
I'm sure there's a word for "Mongolian cowboy", but I couldn't find it.  I'd ask Puje himself, but they don't really have Internet.
Anyway, the wide-open "big sky" vistas and completely other-worldly nomadic culture made this an adventure to remember.  Add to that the crispy weather and a horse with no name (which I temporarily named, see video), and the experience reached mythical proportions.
Ocean Kayaking In The Galapagos
The Galapagos Islands are another of those places that you could simply put on a list like this and drop the mic.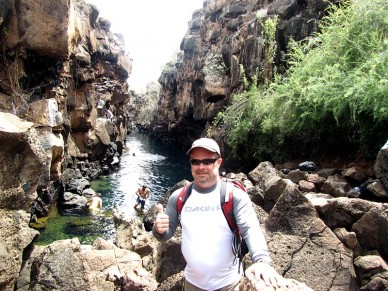 But if we had to choose one particular part of our surrealistically cool (yet budget minded) trip, it would be when we paddled across the open ocean to several secret spots around Puerto Ayora.
We got our chance to see nesting Blue-Footed Boobies up close, paddled into craggy inlets where we were totally alone with the wildlife, and even got to jump overboard and swim with the eels, sharks and who knows what else.
Plus, we got a whole lot of exercise. Who could ask for more?
The Night Tour Of Masaya Volcano In Nicaragua

It's no secret that we're seriously considering retiring to Grenada, Nicaragua.  One of the many reasons we love it there is because you can practically fall out of bed and start having adventures.  It's as if you can't help it.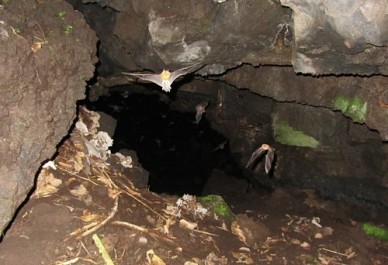 The very best one of all was going to the active Masaya volcano at dusk, donning our mandatory gas masks and watching the glow inside the crater increase in inverse proportion to the waning sunlight.
Little did we know that after a brief nighttime hike we'd also be treated to the breathtaking experience of thousands of bats streaming by our faces at the mouth of a cave.
But wait…there was more.   Our intrepid guide then took us on a ridiculous spelunking adventure over a kilometer into the deepest, darkest cave you can imagine.  There were ancient tribal inscriptions on the ceiling at the end, which you could see through the black heat-scarring caused by burning torches from centuries ago.
Oh, and look…there's a "scorpion spider".  Nice.
Hiking Glaciers In Kennicott, Alaska After Trekking To McCarthy And Seeing The Northern Lights
Lots of people cross "Alaska" off of their bucket lists by taking a cruise to the Inside Passage.  That's cool and all, but renting a 4×4 Jeep in Anchorage and driving into "The Interior" takes the fun to a whole 'nother level.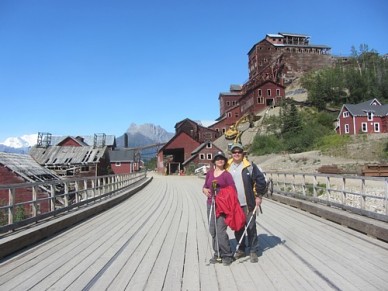 Driving the Dalton Highway to the Arctic Circle from Fairbanks, was amazing.  But  for us, driving the 90-mile unpaved trail to McCarthy deep into the heart of Wrangell-St. Elias National Park was even more amazing, if underrated by comparison.
First off, the scenery exceeds expectation even by Alaskan standards.  But it's what's at the end of the drive that makes a lifelong impression.
The town of McCarthy—quite literally in the middle of nowhere—is a tiny, rustic town that is everything you ever hoped it would be…and more.  There's an airstrip.  An old-school guest house. A hiking outfitter shop.
Of course, there's a hardscrabble bar that you're sure is going to be every bit as rough-and-tumble as any in the Old West.  And it is, except much friendlier.
Meanwhile, the few streets in town are lined with long-expired Jeep Wagoneers and Forward-Controls (!) like unto which you haven't seen on the road in the "Lower 48" for at least three decades.
So anyway, the best is still yet to come.  You go back to your lodge for the evening and grill up some wild-caught salmon and halibut.  When the sun sets, it's replaced by the green, flickering glow of the Northern Lights.
The next morning you wake up and head to nearby Kennicott, home to the most epic old mine ever.  After about an hour of the best hiking ever, you arrive at the glacier, which you can climb all over to your heart's content.  The outfitter in McCarthy rented you the cramp-ons, of course.
The Long List Of Honorable Mentions (Some of these were downright painful to leave out of the top ten!)
Swimming in The Devil's Swimming Pool at Victoria Falls in Zambia
Hiking the unrestored Great Wall of China
Diving the Great Barrier Reef
Shark cage diving in Gansbaai,South Africa
Getting charged by wild Rhinos on a walking safari in Zambia
Couchsurfing with a Christian family in the West Bank
Exploring The Golden Circle in Iceland
Mingling with the Gelada Baboons in the Simien Mountains of Ethiopia
Rafting the Urubamba River in southern Peru
Taking the seaplane to Kandy, Sri Lanka
Exploring the ghats in Varanasi, India
Climbing in the Himalayas in Nepal with an infant
The "Catholic" tour of Belfast, Northern Ireland
Bootleg pictures inside the Great Pyramid
Face-to-face with Papa Bear in Yosemite National Park
Hot air ballooning in Cappadocia, Turkey
Hiking and wading to the source of the Nile in Jinja,Uganda
Exploring the most overlooked sections of the Angkor complex in Cambodia
Going to Kiev, Ukraine 45 days after Maidan incident happened
Climbing Huayna Picchu in Peru
Going to the Golden Temple in Amritsar, India
Driving Shafer Trail and walking Mesa Arch in Canyonlands National Park