Video: Scot Is A Dork And Forgets Where He Is
"Cambio! Cambio! Cambio!"
At least a dozen full-grown (and decidedly scruffy) men bum-rushed the doors of the bus right as they opened, and immediately started shouting…all the while waving surreal, almost Breaking Bad-like fistfuls of cash at us.
Don't get me wrong. I'd always dreamed of crowds of people waving money at me, but this isn't quite what I had envisioned.
What these guys wanted, of course, was to change my Costa Rican cash and/or US dollars into Nicaraguan Cordoba. Each basically promised to make me an "offer I couldn't refuse"—all at once, as Emily and I did our darnedest to squeeze out of the bus (and directly to an ATM machine).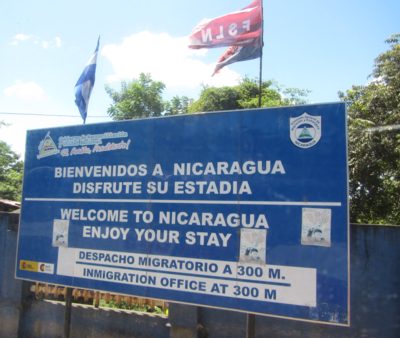 Welcome to Nicaragua. We definitely weren't in Costa Rica anymore. This country was noticeably poorer and with a distinct "wild west" feel to it. It's not as if we felt particularly threatened, it's just that the place was so much more, well…out there.
We adored it already.
Everywhere we looked, there were two different flags flying. There was the blue and white national flag, with the black and red "FSLN" banner invariably right next to it. "FSLN" is short for "Sandanista", basically. Yes, not only were those guys still in power, Daniel Ortega was once again their president. And by the looks of things, the incumbent government was wildly popular. You did see the occasional bumper sticker for the opposition party, but FSLN was clearly there to stay.
We piled back onto the TicaBus, which ambled through the pothole-ridden parking lot over to some sort of bodega area. We carried our luggage to tables and waited for border agents to search our belongings. All the while vendors hawked everything you can think of, just as long as you tend to think strange thoughts.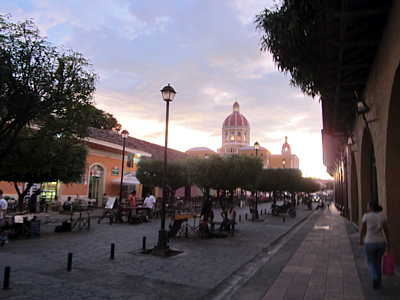 Finally, with the "all clear" sign it was off into the interior of Nicaragua. Next stop, the historic colonial town of Granada.
I'm not sure if I should have been surprised or not, but the more we drove into the heart of the country, the more we realized it was never going to start looking less lush, less beautiful or less inviting than Costa Rica. We also quickly realized that just about everything we'd need while in Nicaragua could be had for about one-third the price it was in CR.
Obviously, tourists from elsewhere tend to visit Costa Rica in droves and come back raving about it. Then they return, again and again. The only possible explanation for why none of these travelers had ever discovered Nicaragua could uniquely be attributed to one, solitary factor: politics.
I'll admit, I had been a bit sketchy about visiting a country with such a long-standing gnarly reputation in the United States. But having already signed on to hit up El Salvador as well on this playful jaunt through Central America, I figured "what do I have to lose?"
So before we left Texas, I had done some preliminary research. I distinctly remember bouncing up from my computer after a mere five minutes of Googling, tracking Emily down in the other room and screeching to a halt before calming myself down and almost solemnly declaring: "Seriously…I think Nicaragua might end up being the highlight of this trip. We're going to wish we had more time there."
Indeed. As it turned out, the exit stamps in our passports weren't even dry before conversation turned to fantasies about retiring to Granada someday. Yes, it was that inspiring a place.
Admittedly, it wasn't as if we hopped off the bus there and fell in love at first sight. When we hit town the vibe of the place hit us like a ton of adobe bricks. The streets were narrow, the buildings ancient, and honest-to-goodness donkey carts were everywhere…each doing legit, revenue-producing work.
It was like a time warp, which given that the town was founded in 1524 probably shouldn't have been much of a surprise.
And then, to top off the experience, the bus dropped us off unceremoniously in front of some sort of old hospital or government building that may as well have been bombed out based on its ragged appearance.
We walked the several blocks to where we'd booked a room. Along the way we began to meet friendly, energetic people dressed in every color of the rainbow. All seemed to be part of one big community, and proud of it. Everywhere you turned, something fascinating was happening and the delightful aroma of something cooking was in the air.
Finally, we reached the ironically named Miss Margrit's hostel. We pounded on the rustic, windowless Spanish-style wooden door, all the while having no idea what we should expect to see when it opened.
But the door opened to something glorious. For a combined total of $200K USD, the owners had purchased the classic Spanish-style villa, completely refurbished it AND decked it out with coolness…including a swimming pool. We had chosen the right place for sure.
It wasn't long before we went exploring, finding the central square where the old-school Cathedral is and the nearby La Calzada area…replete with badass cafes, bistros and bars where you can tank up for so little money you'll be laughing yourself silly even before you've had too many Flor de Canas. The Spanish government has actually chipped in to restore and renovate Granada, and this part of town has been a major beneficiary.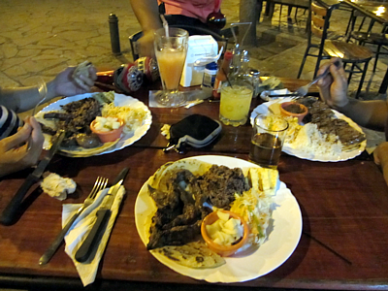 We entered a restaurant that looked particularly inviting, and then quickly realized it was where Andrew Zimmern had eaten that infamous "maggot cheese" on one of the episodes of Bizarre Foods. We passed on that. But rest assured we ate decidedly more appetizing food elsewhere—like kings, no less—for probably about six bucks a head, including drinks.
The World Series was on while we were there, and they rolled out massive big-screen TVs into the street on a nightly basis. Nicaraguans loves them some American baseball, and Granada is a great place to watch it. By the way, the October weather couldn't have been more perfect.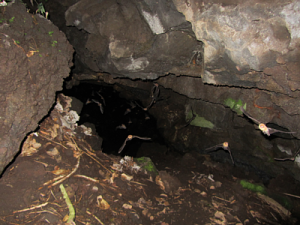 The next evening we hired Tierra Tours on recommendation from our inn's host to do something called the Masaya Volcano Night Tour. Not only did we get a solid look inside the maw of a live volcano, we got to explore some of the nearby caves after dark.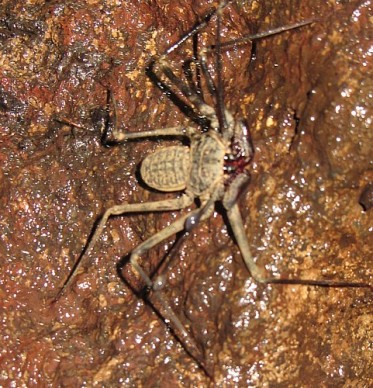 It was honkin' great. The highlight was climbing down into the mouth of one cave in particular, shining lights inside and turning them off to feel literally hundreds of bats stream out of the cave and whiz right past—not a single one of them making physical contact with us (thankfully).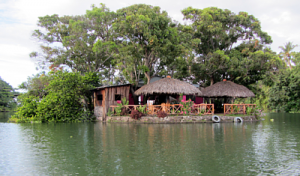 The experience was so completely killer that we hired Tierra Tours again the next day to give us a look at the Isletas, a series of islands on the massive Lake Nicaragua. We made it a point to hire the same guide we'd had the evening before, David, who was terrific. Based on the reviews we've seen, you really can't go wrong. All the guides at Tierra Tours get high marks.
Once on the lake, it was one amazing cool sight after another. Birds, trees and interesting architecture, culminating with a visit to a bar on its own tiny island. Big fun.
The next day we hired a taxi to take us up to the Laguna de Apoyo, near Masaya.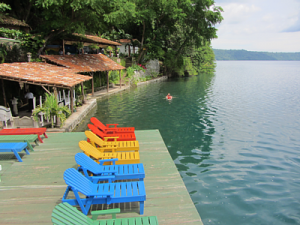 After a twisting, winding cab ride we arrived at a special resort right on this crystal-clear lake, formed in the center of an extinct volcano. There may have been three other tourists in the whole place. It was a great place to have a relaxing swim and enjoy unspoiled natural lushness all around.
All in all, we not only enjoyed our time in Nicaragua we highly recommend it, especially to those who have been to the interior of Costa Rica (i.e. Monteverde, Arenal) and loved it.
We're super glad we had added that extra day there to our itinerary, and it still wasn't enough time.
HOW TO GET THERE
BY LAND: The coach bus lines in Central America are an inexpensive way to get from Guatemala all the way to Panama. Take Pullmantur (based in El Salvador) if you can, and TicaBus if you need a second option. You're guaranteed an adventure, and possibly a first class breakfast.
BY AIR: Managua, like San Salvador, isn't always the easiest destination for United Airlines to fill seats on. As such, you can get some pretty good deals out of Houston (IAH). Weirdly, flights through IAH connecting from different cities can sometimes be hundreds cheaper.
TACA also flies to Managua from New York and DC, as does Delta from Atlanta and American out of Miami.
WHERE TO STAY:
Skip Managua altogether and head about 40 minutes south through Masaya to Grenada, Nicaragua. We recommend Miss Margrit's, a super cool colonial-style villa restored and operated by British expats: http://www.missmargrits.com
HOW TO SAVE MONEY:
Once you've got the flights in and out sorted, there's really no worry about overspending in Nicaragua. Drinks, dining, lodging, taxis and even tours and souvenirs are all ridiculously cheap; a fraction of what it costs to hang out in Costa Rica.
WHAT TO SEE ON A LAYOVER / WHAT TO SEE IN ONE DAY:
If transiting through Managua, hire a taxi for the day (offer about $40 USD and the driver will likely be thrilled) and drive straight to Masaya to see the volcano. If you have more than a few hours on the ground, go also to the main central square in Granada.
TIPS AND TRICKS:
Take the island (Isletas) tour in Granada, and definitely the evening tour of the Masaya volcano and the surrounding caves. It's unforgettable. We used Tierra Tours (http://www.tierratour.com) and were thrilled.
Hang out on La Calzada St. in the evenings, drinking Flor de Cana and Coke for about sixty cents a pop and enjoying a great (and dirt cheap) meal. Let a roving street vendor sell you a pair of customized maracas for seven bucks, and enjoy the show while waiting for dinner as he carves your name (or whatever you want) in them before your very eyes.
TAKEAWAYS:
Unlike Managua, Granada is rather safe to wander about in, even at night. The typical Western tourist will be taken aback by its rustic Colonial vibe, but you'll fall in love with the place sooner than later.
Even though the Sandanistas are still in power—with Daniel Ortega as president once again—it's obvious from minute one that this place is a hidden, undiscovered gem that most Americans in particular avoid for no real reason other than past history.
REAL-WORLD COMPLICATIONS:
Border crossings by bus can be weird, off-putting and perhaps even a bit intimidating. The big secret to overcoming that is setting expectations accordingly from the beginning.
We also recommend against overnighting in Managua if possible. If you're catching the early TicaBus out, it may be unavoidable. Simply plan on arriving late and holing up at the hotel drinking Tona and watching soccer until the cab picks you up the next morning. Be advised that the TicaBus station is in a notoriously crime-ridden neighborhood, too. But take care and you should be fine.