Video:  The fascinating experience of visiting the DMZ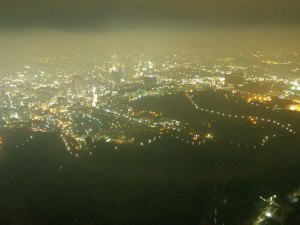 Flying into Gimpo International Airport, we didn't know what to expect.  Having arrived by night, I'll admit to the utterly dorky and ignorant impression that Seoul seemed sort of like Tokyo, only with more random elevation changes and lots of Kias and Hyundais instead of Toyotas and Nissans.
Indeed, we weren't the first American tourists who ignorantly (if passively) had lumped the entirety of the Pacific Rim under one common classification.  Sure, there's plenty which is quintessentially east Asian in general as opposed to Western, but Korea absolutely stands as unique in many ways.
For example, there's the food.  You're no longer in the land of sushi, or dim sum for that matter.  There's more to Korean cuisine than kimchee.  Bibimbap in particular is not to be missed.  As it turns out, locals are rather fanatical about their food, and are all too eager to assist you with the etiquette associated with proper consumption of it.  We got an impromptu tutorial and were all set.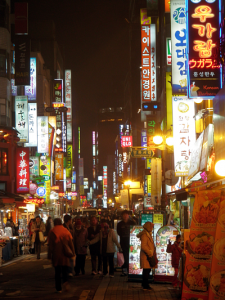 We visited Seoul in December and it was indeed as chilly as it was hilly.  Nevertheless, walking around was a delight.  The shopping markets are particularly epic, especially Myungdong…a name which inspired uproarious laughter from the 12-year-old version of me lurking deep inside.
Seoul Tower (aka Namsan Tower) is nearby, offering, as expected, a bird's eye view of the massive, sprawling metropolis like no other.  Nearby is the first fence we ever saw where couples were invited to fasten padlocks as tokens of their everlasting love.  There were hundreds, if not thousands.  Since then we've seen several other smaller versions in cities elsewhere in the world.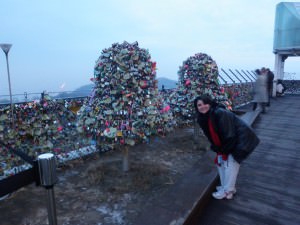 One often underestimated aspect of Seoul is the theater scene.  On the advice of several locals we saw a show called "Nanta", which has run on occasion as "Cookin'" in America.  Having been to West End and Broadway shows, I can say with sober judgment that this was the most impressive stage production I had ever seen.
But without a doubt, my motivation to visit Seoul was rooted in my "bucket list" desire to visit the DMZ.  As recommended by just about every source we researched, we arranged the tour through the United States USO office well ahead of our trip.  We found the fully self-contained tour to be well-planned and felt fully secure the entire time.
The DMZ itself will embed itself in your memory and never leave.  Our guide, a United States Army MP, was a true badass, knowledgeable and confidence-inspiring.  As it turned out, we caught a documentary on the DMZ on television months later and voila…our main man was staring right back at us on TV.
All was going well during the DMZ tour when one of the roughest disappointments in all of our travels caught us by utter surprise.  Due to "H1N1 concerns" the infamous "meeting room", featuring a walk-around divide between North and South right through the center of it, had been closed to tourists.  Our highly coveted brief foray into North Korea was not to be.  Bummer.
Furthermore, it was rainy and foggy.  Views into North Korea would be limited on this day.  The surrealistically large flagpole tower and "propaganda town" were barely visible.
No worries, though.  We're more motivated than ever to do a full-on North Korea adventure, which finally came in the form of  The Military Foundation Day Tour with Young Pioneer Tours.  During that trip we got the thrill of visiting the DMZ again, only from the northern side.  And yes, that brought sweet redemption in the form of a sunny day and entry into the long-awaited "meeting room".  Much more on the DPRK in a future post.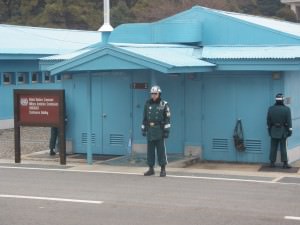 Without a doubt, most first-time visitors to the Pacific Rim likely think of Beijing, Tokyo, Shanghai or Hong Kong when planning their journeys.  Seoul is definitely an underrated "sleeper" of a destination, however…and one we highly recommend.
HOW TO GET THERE:
Incheon Airport is the de facto international hub.  Too bad it's like an hour from town, even by train.  Nevertheless, transit is frequent and convenient.  If you can, get a flight into Gimpo Airport, which is far closer to town.  Having flown to Seoul from Tokyo, we scored a major win by catching a flight to Gimpo from Tokyo's Haneda airport, which is similarly closer to town than the more Internationally-focused Narita airport.
WHERE TO STAY:
I won't lie to you.  We were nothing short of horrified when the cab driver finally found The Hill House Hotel, where we had booked ahead of time.  Chalk one up again for the shock of arriving at night to a hotel in Asia that appears to be in the darkest, most potentially crime-ridden spot in the entire city, only to walk inside and find it amazing (heated floors…are you kidding me?)  And true to form, the neighborhood was vibrant and inviting the next morning, as usually ends up being the case.  Go figure.
HOW TO SAVE MONEY: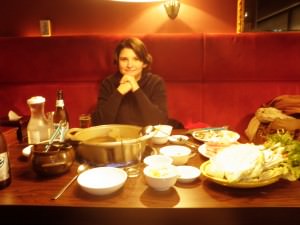 Be sure to eat at the market. The street food in Seoul is cheap, plentiful, generally sanitary and always delicious.
Use the highly efficient metro system when you can. Although taxis are WAY more affordable than in, say, Tokyo, the metro is still the way to go.
WHAT TO SEE ON A LAYOVER / WHAT TO SEE IN ONE DAY:
You'll be able to take in the Myungdong market and the Seoul Tower even if you have a somewhat brief layover. Remember to allow at least an hour of transit to and from Incheon.  All told, the distance from the airport to town makes scoring a sweet layover rather impractical.  For what it's worth, few if any flights actually connect through Gimpo.
TIPS AND TRICKS:
Walk around and enjoy the sights and sounds of this culturally rich city.
You'll find that more people than expected speak English very well. Ask questions and definitely invite them to introduce you to their wonderful cuisine.
Hite beer is the best brew of the lot, at least as far as widely-available beer goes.
Be sure to see a show.
TAKEAWAYS: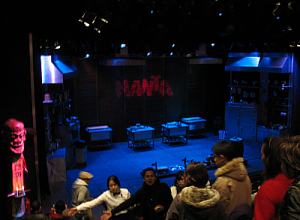 Although not at the top of many traveler's "must see" Asian cities, you'll leave with a love for Korea and its people.
OFF THE BEATEN TRACK:
The DMZ is a bit of a drive from the city center, but you'll be on a tour so there are no worries. A nice perk of the tour is getting to see some of the South Korean landscape outside of the big city.
COMPLICATIONS:
Not any we can really think of. Seoul is easy to visit and not particularly stressful or complicated when on the ground.